More than 500 people were found dead in Haiti as international aid trickled to desperate residents who have not eaten in days since the latest in a battery of severe storms crushed the country, and yet another storm posed a grave threat.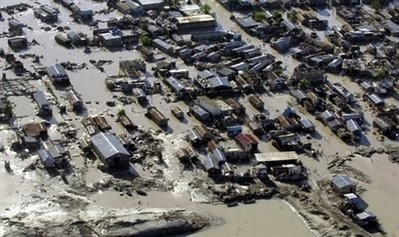 An aerial view of the Haitian city of Gonaives after the passing of Tropical Storm Hanna. More than 500 people were found dead in Haiti as international aid trickled Saturday to desperate residents who have not eaten in days since the latest in a battery of severe storms crushed the country, and yet another storm posed a grave threat.(AFP/File/Thony Belizaire)
As the death toll jumped nearly five-fold in the wake of Tropical Storm Hanna, the poorest country in the Americas was staring catastrophe in the face as Hurricane Ike strengthened to an "extremely dangerous" storm and threatened to dump torrential rains on Haiti's vulnerable northwest coast.
And more deaths could emerge.
"The toll is increasing hourly," warned the UN Office for the Coordination of Humanitarian Affairs (OCHA). "According to information from the government we have reached more than 500 deaths" following Hanna, which hit Haiti early in the week.
The UN Children's Fund warned that 650,000 people have been affected by the flooding, including 300,000 children, and that key bridges have been washed out or blocked leaving many of the country's roads impassable and complicating the task of humanitarian groups trying to deliver crucial aid.
Ground zero of the devastation was in Gonaives, a flood-prone northwestern coast city where about 3,000 people died four years ago when it was drowned by Tropical Storm Jeanne.
Senator Yuri Latortue, who represents Gonaives, said 200,000 people have not eaten in days.
Massive deforestation has left Haiti vulnerable to flooding and mudslides. After Hanna struck, many residents took refuge on the roofs of their homes before they were rescued by UN helicopters.
From the air, the rivers were muddy brown as they spilled over into entire villages. Only the roofs of homes could be seen.
Blue-helmeted UN peacekeepers on Saturday were evacuating several thousand residents from Gonaives, a civil protection official there said.
"The problem is that there are not enough shelters to house all these people, thousands of whom need to be evacuated," the official, Youdeline Joseph, told AFP.
Kone Amara, the Haiti humanitarian assistance coordinator for the aid organization Oxfam, said the situation in Gonaives, a city of 300,000 people, was "very grave."
"There's no food in the city and people live in shelters with precarious hygienic conditions," Amara said.
The aid group had planned to ship 2,000 bottles of water with the help of the World Food Program, but it could not get a boat until at least Monday, he said.
Oxfam might take aid by road, but it wants to be escorted by the UN peacekeeping mission due to security concerns.
"The people on the road feel abandoned and don't want all the aid to be focused on Gonaives," Amara said.
Parnell Denis, the contact for Oxfam in Gonaives, said the city was "completely devastated."
"The streets are lined with groups of people walking through the streets trying to find higher ground," Denis said.
"Food supplies and water are scarce and the price of the food that's left is rising. The morale of people staying in the shelters is so very low; I am afraid to tell them that another storm is on its way."
Hurricane Ike was forecast to pass north of Haiti, sparing it from a direct hit, but it strengthened Saturday to a Category Four storm and was expected to lash northern Haiti with heavy rains, according to the US National Hurricane Center.
"Hispaniola (the Caribbean island Haiti shares with the Dominican Republic) and eastern Cuba could see six to 12 inches (15 to 30 centimeters) of rain, with isolated maximum amounts of up to 20 inches (50 centimeters) possible," the NHC said.
"These rains could cause life-threatening flash floods and mudslides over mountainous terrain."
A tropical storm warning was issued for Haiti's northern peninsula. Radio alerts urged residents to take precautions as the storm could strike on Sunday.
Ike, now an "extremely dangerous" hurricane energized with winds of 215 kilometers (135 miles) per hour, was preparing to roar over low-lying Turks and Caicos and the southern Bahamas late Saturday and was forecast to rage across Cuba late Sunday or Monday before heading towards the United States, the NHC said.
Haiti was already hit in recent weeks by two other storms, Gustav and Fay, which left nearly 120 people dead.
OCHA said it would issue an appeal in the coming days for urgent financial aid to help 600,000 people over the next six months.
In Brussels, the European Commission has launched "fast-track" aid action for two million euros (2.9 million dollars) to provide relief for Haitians.
Brazil, Canada, France, Spain, Switzerland, and the United States are among the nations whose governments have committed relief aid for Haiti.
Venezuela announced Saturday it was sending a plane with 18 tonnes of food and emergency supplies to Haiti, specifically to the city of Gonaives.
Michele Pierre-Louis, Haiti's new prime minister who was approved Friday to take office after four months of political standstill, now will have to manage a grim humanitarian crisis.