India's biggest contemporary art show opened in New Delhi on Thursday, but without works from the country's most acclaimed painter because of fears of attacks by Hindu extremist groups.
Painter M.F. Husain, 94, who has been called the "Picasso of India," has angered hardline Hindus by portraying Hindu deities in the nude or in a sexually suggestive manner.
The three-day India Art Summit, which has collections from 54 art galleries from India and abroad, decided to "avoid displaying" noted Husain's work to prevent any disturbance at the venue, an organiser said.
"We acknowledge the iconic stature of Husain, but are unable to put all the people and art work at risk," Neha Kirpal, associate director of the India Art Summit told AFP.
In early 2008, a large painting influenced by a Hindu epic fetched 1.6 million dollars, setting a world record at Christie's South Asian Modern and Contemporary Art sale.
In the same year, members of Hindu hardline group Bajrang Dal damaged Husain's artwork at an event that displayed his paintings in New Delhi and have also disrupted auctions of his work recently.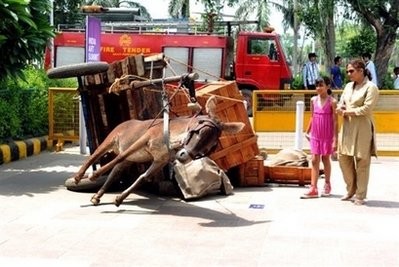 Indians at the India Art Summit in New Delhi
Hardline Hindu groups have also filed over 800 court cases against Husain and vandalised his house.
Elsewhere, the mood was positive among dealers, who are hoping for a recovery in prices for Indian artwork, which skyrocketed during the boom years preceding the global financial crisis but have now fallen back sharply.
The India Art Summit, now in its second year, is the biggest showcase for Indian artists and hopes to become a fixture on the international art calendar alongside other shows such as the Basel or Shanghai fairs.
Dadiba Pundole, owner of the Pundole art gallery in the western Indian city of Mumbai that owns the right to exhibit a majority of Husain's art work, told AFP he regretted not being able to take part in the event.
"It is a shame that we cannot show great works by Husain, but we had no choice as the Indian government did not commit a security blanket to protect his work," Pandole said.