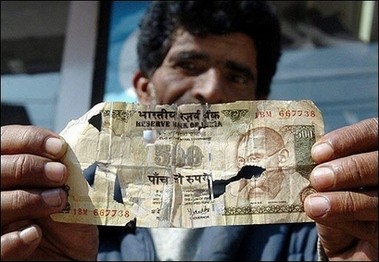 An Indian currency dealer holds a crumbling 500 rupee banknote at his market stall in Srinagar in October 2005
India's central bank has warned of overheating in one of the world's fastest growing economies as it juggled interest rates in a mid-term policy review aimed at keeping prices in check.
The Reserve Bank of India raised the cost for banks to borrow by a quarter percentage point to 7.25 percent and kept its reverse repurchase rate, the rate paid for deposits from commercial banks, at a four-year high of 6.0 percent.
The central bank did refrain from lifting its long-term rate, or bank rate, from 6.0 percent and kept the cash reserve ratio, the percentage of funds banks have to keep as cash, at 5.0 percent.
The central bank said global oil prices, down more than 10 dollars from record levels above 70 dollars earlier this year, and a booming economy posed a threat to price stability.
The economy, which grew 8.4 percent in the fiscal year ended March and 8.9 percent in the quarter ended June, showed "signs of overheating", it said.
"While global inflation conditions have not worsened, concerns relating to price pressures and uncertainties surrounding international crude prices persist," Reserve Bank Governor Y.V. Reddy said in a statement Tuesday.
The central bank meanwhile raised its growth forecast to 8.0 percent for the year to March 2007, from an earlier forecast of 7.5-8.0 percent, and said inflation would be contained at 5.0-5.5 percent.
Inflation, as measured by wholesale prices, rose to a four-month peak of 5.26 percent last week at the same time in a sign of a booming economy, the benchmark Mumbai stock exchange Sensex hit a record high close Monday of 13,024.26.
But in afternoon trade Tuesday, the Sensex was down 6.72 points or 0.05 percent to 13,017.54. The rupee gained against the dollar to 44.98 from 45.00 Monday.
"The rupee is likely to strengthen further largely due to strong fund flows into Indian equities," said Sharad Pawar, an analyst with treasury advisory firm ForexServe.
The Sensex has gained more than 47 percent in the past five months, from a low of 8,799.01 on June 14 as foreign funds pumped in 6.42 billion dollars so far this year.
Analysts had said that the central bank faces continued pressure on prices, particularly food, as strong economic growth lifts incomes in India and banks eagerly lend money for purchases such as homes and cars, fuelling demand.
"Domestic factors such as rising inflation, despite lower oil prices, robust bank credit and money supply growth and a strong underlying economy favour further tightening," said Deepak Lalwani, a director at London stockbroker Astaire and Partners Ltd in remarks published ahead of the review.
Bank credit to industry this year has expanded by more than 30 percent and property prices have risen sharply, sparking fears of a bubble.
Though the central bank faces political pressure to keep rates low to dent poverty in the country of 1.1 billion people with almost 300 million earning less than a dollar a day.
"There will be an apparent difference between what I think and what the RBI (Reserve Bank of India) thinks," Finance Minister P. Chidambaram said earlier this month.