MUMBAI (AFP) – India marks the first anniversary Thursday of last year's militant attacks on Mumbai with a series of ceremonies to honour the 166 victims killed in the deadly rampage by 10 Islamist gunmen.
The day of remembrance comes as India's government continued to push neighbouring Pakistan -- where the gunmen are believed to have trained -- to crack down on extremist groups.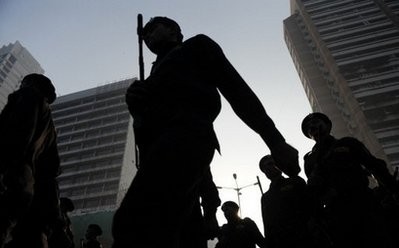 Mumbai police commandos rehearse for a terror attack anniversary parade in Mumbai. (AFP photo)
Security forces, heavily criticised for their failure to prevent the attack, are to parade through the city with new hardware bought as part of a 1.3-billion-rupee (27-million-dollar) upgrade package.
Prayer ceremonies and candlelight vigils are also planned at a number of attack sites where the victims, including 25 foreigners, were killed in strikes that Indian media frequently liken to those on September 11, 2001 in New York.
Ten heavily-armed militants arrived in the city undetected by boat before storming a number of targets, including two luxury hotels, a popular tourist restaurant, Jewish centre and the main railway station.
The bloody siege over three days, which was beamed live across the world on television, shocked the country, sparked a public backlash against Pakistan and led to an ongoing international investigation.
Seven suspects were indicted in a Pakistani anti-terrorism court on Wednesday in connection with the attacks. All those in the dock pleaded not guilty to the charges.
Two men detained by the US Federal Bureau of Investigation (FBI) in Chicago are also being probed by Indian authorities for their links to the atrocities blamed by India on a Pakistan-based militant group, Lashkar-e-Taiba (LeT).
Two Pakistanis were also arrested last week in Italy on suspicion of having sent money to people implicated in the attacks and are being held in custody.
The only gunman captured by Indian security sources made a dramatic confession of his role in the killings during his ongoing trial in Mumbai, which could result in the death penalty.
The first anniversary comes after Indian Prime Minister Manmohan Singh's visit to the United States this week in which he called for the world to pressure Pakistan to rein in extremists.
New Delhi accuses Islamabad of harbouring the LeT, which is suspected of training, equipping and funding the gunmen, with the support of elements from the Pakistani military and intelligence.
The attacks ended peace talks between the two nuclear-armed neighbours and rivals, with India vowing not to return to the table until all those responsible were brought to justice.
Singh called on the world to "use all its influence to curb the power of terrorist groups" in Pakistan, which has seen a rise in Taliban-linked violence in recent months.
Pakistan admitted under international pressure earlier this year that the gunmen left for Mumbai from the southern port city of Karachi.
Security has been improved in Mumbai in the last year after criticisms that the police lacked men, equipment and training to respond effectively.
Luxury hotels have introduced airport-style checks on bags and visitors, there is a visible, armed police presence at key locations, while private security firms have seen an upsurge in business for corporate clients.
Elite commandos are now stationed in Mumbai and the state police in Maharashtra, of which Mumbai is the capital, have set up their own rapid reaction units.
But experts say more needs to be done to prevent another attack, with coastal security a priority.
The acting head of Maharashtra Police, A.N. Roy, said India's financial capital would remain a target for extremists because of its role driving India's economy.
Last year's strike caused damage estimated at 410 million rupees and hit overseas business and the tourism industry, from which it has yet to recover.
India's Home Minister P. Chidambaram, who was to unveil a sculpture to the police and military personnel who died last year, has said the response to Mumbai has been "mixed" and warned that India is just as vulnerable to attack.
Mumbai police commandos rehearse for a terror attack anniversary parade in Mumbai.