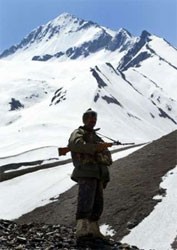 An Indian army soldier stands guard in Kashmir
The talks come days after India's defence minister Pranab Mukherjee ruled out "any withdrawal of troops from Siachen (glacier) so long as talks going on with Pakistan on the issue do not yield any results."
The Indian side will be led by Defence Secretary Shekhar Dutt while the Pakistani delegation will be headed by his counterpart Tariq W. Ghazi, the official said.
Indian military negotiators have made some headway in previous rounds of talks to fix an agreed ceasefire line on the glacier. Military experts estimate there are 7,000 Indian troops and 4,000 Pakistani soldiers stationed there.
Extreme weather on the 6,300-metre (20,700-foot) Siachen glacier kills more troops than combat.
Pakistan's President Pervez Musharraf earlier this year urged India to withdraw troops from three Kashmiri cities and Siachen as a de-militarisation gesture.
India and Pakistan have fought three wars since their 1947 independence from the Britain, two of them over Kashmir.
The two bitter rivals are engaged in a slow moving peace process that they began in January 2004.
Source: AFP