India has scrapped tenders to import rice, saying it has enough stocks to manage despite a harvest shortfall following the worst monsoon in almost four decades.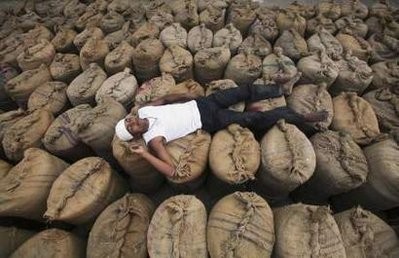 A labourer takes a nap on sacks filled with rice at an agriculture product marketing committee yard at Jetalpur on the outskirts of the western Indian city of Ahmedabad November 18, 2009.

A top-level cabinet committee on food cancelled the three tenders totalling 30,000 tonnes, which would have represented the first imports of the staple by India -- a traditional exporter -- since the 1980s.
"We are not importing (rice). We have adequate stocks. We will review (the decision) if there is any need," Commerce Minister Anand Sharma told reporters late Friday after the committee met.
The tenders had been floated by state-owned trading firms MMTC, State Trading Corp and PEC.
However, the Press Trust of India quoted an unnamed official as saying: "The government does not want to buy at such high prices."
The decision not to import marks a U-turn from a government announcement when Sharma said India was in talks with Thailand and Vietnam about buying rice to offset an estimated summer harvest shortfall of at least 15 million tonnes.
The country of nearly 1.2 billion people produced a record 99.15 million tonnes of rice last year.
Industry officials said the decision to scrap the purchase tenders might be a strategy to cool rising international prices and that the government could seek to enter the market when it was more favourable.
Global prices rose after India announced it was entering the market.
The three state trading firms had been asked to import 10,000 tonnes of rice each.
Domestic rice prices have soared 25 percent in the last four months on supply worries after the poor annual rains, which were followed in some areas by devastating floods that hit crops.
Private traders have already imported at least 400,000 tonnes of rice, in expectation of higher domestic prices, and Indian media reports say the figure is expected to rise.
India is the world's second-largest rice producer and the shortfall comes after bumper harvests in the two preceding years. However, the country still has comfortable buffer stocks totalling 14.5 million tonnes, nearly triple its target of 5.2 million tonnes.