Indian Prime Minister Manmohan Singh said Wednesday that the world economy was still "not out of the woods" as he set off for the G20 summit of wealthy and emerging nations.
He also called for further progress on reforms of international financial institutions, such as the International Monetary Fund, and called for a "strong message" against protectionism.
The global economy has shown "distinct improvement" since the global financial crisis erupted but "we are still not out of the woods," he said.
Leaders of the Group of 20 leading world economies are to meet in the US city of Pittsburgh on Thursday and Friday for a summit expected to plan a coodinated route out of the crisis.
As the world economy improves, the next step for governments will be exiting the unprecedented stimulus measures taken during the global financial crisis which are credited with staving off another Great Depression.
Singh said India would also "like to see a strong message to emerge from Pittsburgh against protectionism in all its forms, whether trade in goods, services, investment or financial flows."
He added that there was "a need to carry (on) the process of governance reform of international financial institutions further to give greater voice and representation to under-represented countries."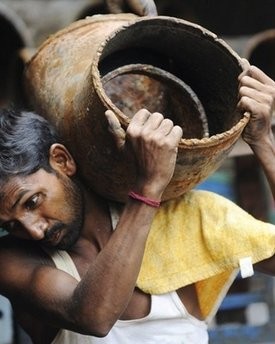 An Indian labourer carries a section of an iron pipe in Mumbai
India, along with Brazil and South Africa, have championed reform of the IMF to include a greater say for emerging countries.
Earlier this month, the foreign ministers of Brazil, India and South Africa said signs the global crisis was easing should not stall plans to overhaul the world's financial system, including reform of the IMF.
They issued a joint statement calling for a continued expansion of the International Monetary Fund's reserves and a shake-up of countries' representation and voting rights.
India with its mainly domestically focused economy approaches the G20 summit "with a sense of confidence," Singh said.
"Our growth is primarily driven by domestic demand, our savings rate is robust and the external sector has exhibited resilience," he said.
Capital cash flows have also started picking up and India is an "attractive investment destination," he said.
India forecasts "six percent plus" growth this year, lower than the 6.7 percent the country logged last year, and sharply down from the annual nine percent levels it clocked during the three previous years.
But private economists expect India's growth to start gaining steam next year.
Singh noted that this is the third summit of G20 Leaders in less than a year.
He said the meeting reflected the seriousness that the G20 countries attach "not just to the recovery of the global economy and financial system, but to a recovery that is coordinated, sustainable and enduring."
He added that steps taken by the G20 to augment the resources of multilateral development banks have led to a substantial stepping up of World Bank lending to India.
The Washington-based World Bank on Tuesday announced 4.3 billion dollars in loans to India, including 2.0 billion for the banking sector, to help strengthen its economy amid the global economic crisis.
The four projects worth 4.3 billion dollars to India are "designed to support the government's infrastructure agenda and bolster its economic stimulus program," the Washington-based development lender said.