India's most celebrated yoga guru has begun a "fast unto death" in a bid to force the government to accept his hardline anti-corruption measures.
Swami Baba Ramdev decided to go ahead with his hunger strike after cabinet ministers dispatched by Prime Minister Manmohan Singh failed in a last-ditch meeting on Friday to persuade the maverick guru to call off his protest.
The saffron-robed swami, who has a huge television following for his daily yoga show, began his protest early in the morning after a two-hour yoga practice with his followers that started before dawn, local media reported.
He declared to cheering supporters late Friday that he was staging the hunger strike "for the sake of India".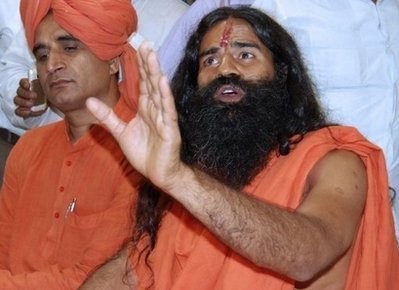 India's most celebrated yoga guru, Swami Baba Ramdev (R), has begun a fast unto death in a bid to force the government to accept his hardline anti-corruption measures.
Thousands of people had already gathered in New Delhi's sweltering summer heat by Friday to watch Ramdev begin his fast at a sprawling site where a Hindu festival marking the triumph of good over evil is celebrated every year.
The guru, who has wide support from right-wing Hindu groups, has called for Singh's administration to repatriate so-called "black money" -- cash stashed in foreign accounts suspected of being used for bribes and illegal transactions.
"After all this money is brought back, no one will be hungry, uneducated, unemployed," he said.
The bearded guru, a strict social conservative who claims he can "cure" homosexuality, cancer and AIDS through yoga and other alternative therapies, has also called for the death penalty for corrupt government officials.
"The corrupt politicians" have gained vast sums "from the people's hard earned money," said Ramdev, who has declared he would "fast unto death" to achieve his goals.
"Corrupt people have no religion. All corrupt ministers should be given the death sentence," he said.
The Congress government, which has been buffeted by a slew of graft scandals, issued a late night statement assuring Ramdev and his followers that the maximum penalty for corrupt officials would be "substantially increased".
It also promised speedy trials for people accused of corruption but stayed silent on the guru's demand that they should hang.
Senior Indian cabinet minister Kapil Sibal, who led the talks with the guru, said on Friday the government "had a constructive dialogue on the issues. We are very happy with the progress."
But "we cannot expect that these issues can be resolved today because they have long-term implications", Sibal told reporters.
A stage was set up for people in a giant tent to watch Ramdev on his fast while mattresses were put in place below for supporters wanting to join him on his hunger strike.
The government fears the protest by the popular yoga teacher who could fuel voter anger over widespread graft.
Public outrage at corruption has been mounting over the scandals involving the government, notably a $39 billion telecom scam that has seen one minister arrested.
Finance Minister Pranab Mukherjee, the government's top troubleshooter, cancelled a planned trip to Kolkata to stay in New Delhi to deal with the crisis.
Ramdev, whose daily yoga show reaches an estimated 30 million viewers, has tapped discontent to launch his campaign.
Commentators and some inside the ruling Congress party have questioned the government's willingness to placate Ramdev.
Others say Ramdev and another social activist, 73-year-old Anna Hazare, who fasted for 98 hours in April demanding a tough anti-corruption law, are holding India's democracy to ransom with no mandate from the people.