India's industrial output unexpectedly shrank in March by 3.5 percent as Asia's third-largest economy was hit by declining domestic demand and falling exports, official data showed Friday.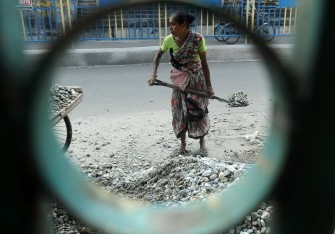 Labourers are seen working on road construction in Siliguri on May 10, 2012. Seeking to spur growth further, India' central bank in April lowered interest rates for the first time in three years, with a bigger-than-forecast 50 basis points cut in interest rates.
Growth in manufacturing, mining and electricity output from a year earlier sharply undershot consensus expectations of a 1.5-percent rise.
The data marked a significant turnaround from February's 4.1-percent output increase and the 9.4-percent rise logged in the same month a year earlier.
The contraction was another sign of the slowdown gripping India's economy, fed by weakening global and domestic demand.
The key manufacturing sector shrank by 4.4 percent in March in contrast to an 11-percent rise in the same month a year earlier.
India's central bank cut interest rates for the first time in three years in March in a bid to spur economic growth but has said scope for further reduction in borrowing costs was restrained by still strong inflationary pressures.
The government has forecast 7.6-percent growth for the current fiscal year to March 2013, up from an estimated 6.9 percent last year, but many private economists' predictions are for expansion of around seven percent or lower.
The figures come as Prime Minister Manmohan Singh's Congress-led government battles a series of corruption scandals that have paralysed policy-making and stalled crucial reforms to open up the economy.
The economic gloom, exacerbated by ballooning fiscal and trade deficits, have deterred vital foreign investment needed to improve India's shabby infrastructure, reduce manufacturing and supply bottlenecks and boost growth.