NEW DELHI, Aug 13, 2010 (AFP) - India's showdown with BlackBerry could reportedly widen to encompass Google and Skype after the government threatened to cut off core features of the popular smartphone on security grounds.
Research In Motion, the BlackBerry's Canadian maker, gave no immediate indication that it would accede to the latest pressure from an emerging economy to open up its services to security agencies.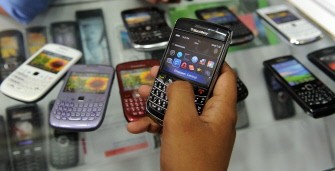 A potential customer checks a Blackberry handset at a shop in New Delhi on August 13, 2010. AFP
"If a technical solution is not provided by August 31, 2010, the government will review the position and take steps to block" BlackBerry email and messenger services, India's home ministry said late Thursday.
New Delhi, battling insurgencies ranging from Kashmir in the northwest to the far-flung northeast, fears heavily encrypted BlackBerry communications could be used by militants.
Islamic attackers used mobile and satellite phones to coordinate the brazen three-day assault on Mumbai in 2008 that killed 166 people.
India's telecom operators declined to comment Friday on the ultimatum.
"We have to wait to see how the story unfolds, it is a very fluid situation," said an executive at one wireless company.
Sanjay Kapoor, South Asia chief of leading mobile operator Bharti Airtel, said earlier in the week: "Of course, we're aligned to the government as far as national security interests are concerned. We just hope customer interests are also protected."
The Indian deadline came after Saudi Arabia on Tuesday postponed imposing a BlackBerry ban as the ultra-conservative Muslim country reported progress in solving its own security concerns.
The United Arab Emirates, however, has said it will ban BlackBerry messenger, email and web browsing services from October 11 for security reasons. That has prompted expressions of concern from the US government.
In response to the Indian threat, RIM said it tried to be as cooperative as possible with governments "in the spirit of supporting legal and national security requirements".
But it also wanted to preserve "the lawful needs of citizens and corporations".
Analysts have noted that other security-conscious countries such as China and Russia appear to be satisfied over their intelligence agencies' level of access to BlackBerry communications.
The Indian warning came after a high-level meeting Thursday between the home ministry and intelligence agencies, and the end-August deadline was relayed to Indian telecom firms that offer BlackBerry services.
India's security concerns are not confined to RIM with other communications providers such as Google and the Internet telephony firm Skype also in its sights, according to Friday's Financial Times.
Quoting minutes from a July 12 meeting between Indian officials and telecom and Internet providers, the FT said the government wanted a broad solution to enable possible interception and monitoring of all Internet-based traffic.
"There was consensus that there (is) more than one type of service for which solutions are to be explored," the minutes by the telecommunications ministry's security wing said, according to the FT.
"Some of them are BlackBerry, Skype, Google etc," the minutes read. "It was decided first to undertake the issue of BlackBerry and then the other services."
"These are all issues that are being deliberated from a security point of view but there can be no comment until any final position emerges," an Indian government official, who declined to be named, told AFP on Friday.
Internet giant Google is already locked in tension with Beijing over state censorship and cyberattacks that the US company says originated in China, the world's largest online market with 420 million users.
India is another coveted prize for communications providers. It is the world's fastest-expanding cellular market and already has 1.1 million BlackBerry customers.
If the ban is imposed, BlackBerry corporate or "enterprise" customers in India would only be able to use their handsets for phone calls and web browsing.