India, Aug 19, 2009 (AFP) - India's opposition Hindu nationalists said Thursday they had expelled senior figure Jaswant Singh amid a row over his book on the legacy of Pakistani founding father Mohammed Ali Jinnah.
Singh, a former foreign minister and member of parliament for the Bharatiya Janata Party (BJP), questioned the demonisation of Jinnah by Hindu nationalists who blame him for the partition of the subcontinent in 1947.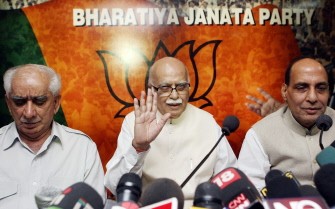 In this file photo taken on July 23, 2008, Bharatiya Janata Party (BJP) senior leader Jaswant Singh (L) attends a press conference with party leader Lal Krishna Advani (C) and party president Rajnath Singh (R) in New Delhi (AFP photo)
"He has been expelled from the party," BJP president Rajnath Singh told reporters in the northern hill resort of Shimla where the party is meeting for a brainstorming session.
The furore over the book goes to the heart of a debate in India about blame for partition of the British-controlled subcontinent into Pakistan and India which sparked communal riots that left up to a million dead.
The subject of Jinnah has always ruffled feathers in the BJP and the current head of the party, Lal Krishan Advani, offered to resign after he sparked controversy by lauding Jinnah as a "great man" and a secular leader in 2005.
Singh's book, titled "Jinnah - India, Partition, Independence", was released on Monday. He describes the Pakistani leader as a "great personality".
Singh was one of the founding members of the BJP and served as foreign minister between 1998 and 2004, during which time he also held the finance portfolio.