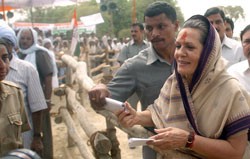 India's ruling Congress Party President Sonia Gandhi (R) talks with supporters (AFP Photo)
The widow of India's assassinated former prime minister Rajiv Gandhi was contesting her Rae Bareli parliamentary constituency in the politically strategic northern state of Uttar Pradesh.
The Italian-born 59-year-old is the standard-bearer for India's political dynasty created by founding prime minister Jawaharlal Nehru and continued by his daughter Indira Gandhi, mother of Rajiv.
A Gandhi victory has always been considered a "foregone conclusion," said Rashid Kidwai, Sonia's official biographer.
"Of course she will win," her daughter Priyanka told reporters in the town that has been a Nehru-Gandhi electoral bastion for decades. "We hope it will be again by a record margin."
Some 20 percent of an estimated million eligible voters had cast their votes by early afternoon, a poll official said.
Queues were seen outside some of the polling stations while others looked deserted due to temperatures about 40 degrees Celsius (104 Fahrenheit).
Priyanka and brother Rahul, Gandhi's political heir-apparent, spearheaded a publicity blitz for their mother who resigned on March 23 forcing the by-election.
Gandhi's resignation took the sting out of a political storm that had threatened to engulf Congress over senior figures holding multiple government posts.
Only the margin of victory over her main challenger, the Hindu nationalist Bharatiya Janata Party's Vinay Katiyar, has been open to debate.
"It's an open-and-shut case," said political analyst Mahesh Rangarajan, a visiting professor at Cornell University in the United States.
"What we have to see is the size of the majority -- she won by 240,000 votes last time (2004) -- we have to see if it goes up or down," Rangarajan said.
Kidwai said, however, that the victory would be more a symbol for Congress.
"A landslide win is not expected to put a stop to the Congress party's declining fortunes" in India's most populous state, with 80 members of parliament, he said.
India's constitution disqualifies an MP "if he holds any office of profit under the federal government or government of any state, other than an office declared by the national legislature by law not to disqualify its holder".
Source: AFP