Indonesia and African nations have developed cooperation since the "Bandung Declaration" in the Asia-Africa Cooperation in 1995, said the country's Foreign Minister Retno Marsudi on February 19.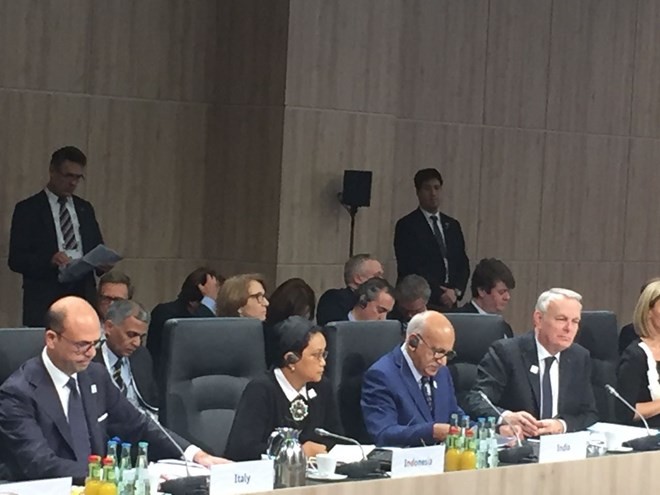 At the coference Cooperation with Africa (Photo: Indonesian Ministry of Foreign Affairs)
Speaking at the conference "Cooperation with Africa" taking place during the special session of the G20 foreign ministers meeting recently held in Bonn, Germany, Retno noted that the conference was significant not only for the cooperation between Indonesia and African countries, but also for the establishment of South-South cooperation, according to Indonesia's news agency Antara.
Indonesia always values bilateral and multilateral ties under the framework of South-South and Triangular relations to support development in African countries, the minister said.
Some initiatives which have been carried out by Indonesia to help African people develop their countries include the "New Asia Africa Strategic Partnership" (NAASP) 2005 and the "Capacity Development Project" (CADEP) in cooperation with Japan.
The Southeast Asian country and African nations have cooperated in a number of fields, such as agriculture, small and medium enterprises, women empowerment, as well as democracy practices.
In 2017, the Indonesian government will continue to count Africa as one of its priorities, particularly in trade and investment cooperation in some strategic sectors such as energy and infrastructure.
As Chairman of the Indian Ocean Rim Association (IORA), the country will work to boost its maritime ties with Africa.
Retno called the G20 countries to support the development of Africa in security and welfare through more transparent and effective cooperation between governments and the private sector.
The sound cooperation between G20 and African not only improves common welfare but also contributes to global peace and stability, said Retno