The twin suicide bombings of luxury hotels in Jakarta were "clearly linked" to Malaysian-born extremist Noordin Mohammed Top, the man believed behind the 2002 Bali bombing, a senior counter-terrorism official said Saturday.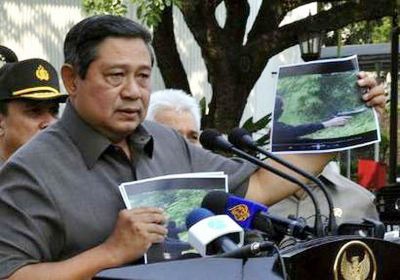 Indonesia's President Susilo Bambang Yudhoyono holds up pictures released by the Indonesian intelligence agency as he speaks during a news conference at the presidential place in Jakarta 17, 2009.
"From the modus operandi, this is clearly linked to Noordin M. Top," the security ministry's anti-terror desk chief, Ansyaad Mbai, was quoted as saying by state-run Antara news agency.
At least nine people were killed and up to 50 were injured in Friday's attacks on the JW Marriott and the Ritz-Carlton hotels in downtown Jakarta.
No group has claimed responsibility but police have said the home-made bombs were identical to those used in previous attacks linked to Noordin, a master bomb-maker and leader of a splinter group of the Jemaah Islamiyah network.
The former accountant and violent Islamist has been on the run since allegedly masterminding the 2002 bombings on the resort island of Bali, which killed more than 200 people.
Mbai said Friday's attacks proved that Noordin's group was still capable of sophisticated operations despite a major crackdown by Indonesian police on violent extremists over the past decade.
"Before, suicide bombings took place outside, at a hotel compound or something. But this, in the middle of a tight security system, shows they can penetrate to reach their prime target," he said.
"This incident proves that they are still strong and it should be a priority to capture the principal actor, that is Noordin M. Top. As long as the actor isn't caught, all efforts to anticipate anything are in vain."
Local media in March reported Noordin narrowly evaded capture in East Java after seeking treatment for a liver illness.
Police said the bombs used Friday were the same as devices discovered at an Islamic boarding school in Central Java last week during a raid that was reportedly part of the ongoing search for Noordin.