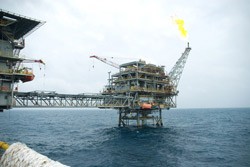 An offshore oil-rig in Natuna Sea
Indonesia has terminated a contract with ExxonMobil Corp to drill a major offshore gas field in the Natuna Sea off the west coast of Borneo, energy minister Purnomo Yusgiantoro said.
The minister told reporters late Tuesday that Exxon had not submitted a plan for developing the block and selling the gas, which has a high ratio of carbon dioxide and is therefore difficult to extract, to the regulator.
"So the contract was automatically terminated," Yusgiantoro said.
He said Exxon, which had a 76 percent stake in the Natuna D-Alpha block, had mistakenly thought the contract had been extended until 2009.
Yusgiantoro said state oil and gas firm PT Pertamina might now be first in line to operate the block. The company holds the rest of the share in the block.
Pertamina chief executive Ari H. Soemarno said that the state firm would still like to explore it.
Exxon and Pertamina have spent 250 million dollars exploring the block already, of which 60 million dollars was footed by the Indonesian company, he was quoted as saying by Bisnis Indonesia.
"If Pertamina does not continue exploration of that block, the money we have invested will be gone," he reportedly said.
Concern among foreign investors over involvement in oil and gas projects in Indonesia, Southeast Asia's only member of the Organisation of Petroleum Exporting Countries (OPEC), has been a factor in the country becoming a net oil importer in recent years.
Source: AFP