Indonesia closed Malang city's domestic airport Monday as a volcano shot ash into the sky over eastern Java, posing a risk to planes, officials said.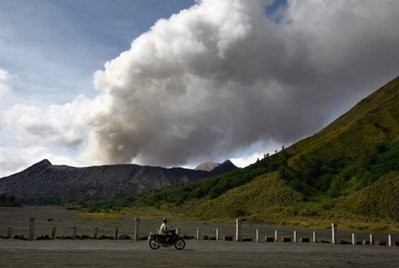 Mount Bromo volcano, seen here emitting a column of steam from its crater, in the Pasuruan district of East Java province, on November 24.
The airport, about 25 kilometres (16 miles) west of Mount Bromo, will be closed until December 4, transport ministry spokesman Bambang Ervan said.
Bromo, a popular tourist attraction, began rumbling earlier this month and the government has raised the eruption threat warning to the maximum red alert.
"The ash contains chemical substances which could cause engine trouble" to passing planes, Ervan said.
Abdul Rachman Saleh airport in Malang, a city of about 800,000 people, handles 10 daily domestic flights from the capital Jakarta.
Government volcanologist Surono said the volcano was spitting columns of ash some 700 metres (2,300 feet) into the sky.
"It will continue to erupt in the coming days," he said.
Indonesia's most active volcano, Mount Merapi in central Java, has killed more than 320 people in a series of violent eruptions starting late last month.
Unlike Merapi, the countryside around Bromo is not densely populated as it lies within the Bromo-Tengger-Semeru National Park, a huge caldera containing several volcanoes.