JAKARTA, March 29, 2009 (AFP) - The death toll from a burst dam in a Jakarta suburb rose to 97 on Sunday as rescue workers continued to search for more than 100 people still missing, an official said.
Hundreds of buildings collapsed when a wall of water broke through the man-made earthen dam early Friday as residents slept in their beds.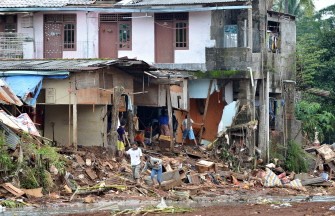 People search for belongings outside damaged homes two days after a burst dam in the Cirendeu suburb of Jakarka on March 29 (AFP Photo)
"Until this afternoon, we recorded that a total of 97 bodies had been found," disaster emergency centre official Rahmat Salam told AFP.
Some 700 rescue workers, police and military personnel joined forces Sunday in a third day of searching for 102 people still listed as missing.
Salam said officials were also working to verify the exact number unaccounted for after reports that scores of people had fled the area and were staying with relatives.
The 10-metre-high (33-foot) Situ Gintung dam was built in 1933 when Indonesia was under Dutch colonial rule. Authorities blamed the disaster on high water pressure following an intense downpour.
But local residents and environmentalists said that the dam had burst because it had not been properly maintained.
Floods and landslides are common in Indonesia during the rainy season, which is at its peak between December and February.