Indonesian rescuers Thursday spotted the wreckage of a missing Russian Sukhoi Superjet that disappeared in mountainous terrain during a demonstration flight with about 50 people aboard.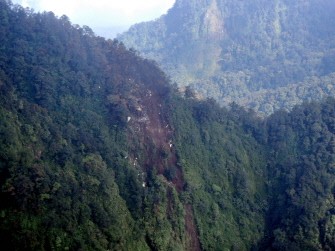 In this photograph released on May 10, 2012 by the Indonesian Air Force and taken by Indonesian Air Force rescue personnel aboard a helicopter on May 10, 2012, debris of plane crash from a Russian Sukhoi Superjet 100 is seen on the slope of Salak Mountain Western Java province.
Russia's first post-Soviet civilian jet vanished from radar screens south of Indonesia's capital Jakarta on Wednesday, 50 minutes into what was meant to be a short flight to show off its capabilities to prospective buyers.
Initial efforts to locate the jet proved fruitless and after the search resumed at first light on Thursday, the crew of an Indonesian Super Puma military helicopter saw the wreckage in the vicinity of a dormant volcano.
"The Sukhoi has been found just now," said Ketut Parwa, search and rescue agency chief for Jakarta, who was coordinating operations. "There is debris spotted by the helicopter, (we have) confirmed it is from the Sukhoi," he said.
National search and rescue chief Daryatmo, who goes by one name, said the helicopter's pilot had spotted wreckage including the Sukhoi logo on the ground.
"We spotted the fragments at the coordinates where we lost contact with the plane," he told a news conference.
Ali Umri Lubis, spokesman for the search helicopter's military airbase, said the plane was spotted in the Cijeruk area, near the dormant volcano Mount Salak, close to the city of Bogor in West Java.
Cijeruk is in a mountainous area 6,500 feet (2,000 metres) above sea level, 50 miles (80 kilometres) southeast of Jakarta. Indonesian officials have said the Sukhoi descended to about 6,000 feet shortly before it vanished.
"The debris was found by the helicopter on a mountainside, around 1,800 metres (5,900 feet) above sea level," said Lieutenant Colonel Mukhlis, a military commander in the West Java city of Sukabami.
"We don't know how big it is, what part of the plane, and the condition of the passengers. We also have not decided how to evacuate (victims or survivors), whether by air or land," he added.
President Susilo Bambang Yudhoyono told reporters that "all efforts must be made in this rescue operation... and the priority must be to save survivors, if any".
All aboard were Indonesian aviation and airline representatives, except for eight Russians -- four of them crew and four of them Sukhoi employees -- plus an American and one Frenchman, officials said.
The twin-engine Superjet 100, a new passenger aircraft, is crucial to Russia's hopes of becoming a major player in the modern aviation market, and a major accident would be the first disaster to involve the type.
The demonstration flight was part of an Asian tour to promote the aircraft, which is a joint venture between Sukhoi and Italy's Alenia Aeronautica. It made its first commercial flight last year.
So far it is being flown by two airlines, Russia's Aeroflot and Armenia's Armavia, but orders have been confirmed with more, including Indonesia's Kartika Airlines and Sky Aviation, the Antara news agency reported in Jakarta.
Reports of the number on board varied, with local rescue officials saying the plane was carrying 46 people and Trimarga Rekatama, the company responsible for inviting the passengers, saying 50 were on board.
Juanda, a 41-year-old villager near Mount Salak, said he was feeding his chickens on Wednesday when he heard a roar overhead.
"I looked up and saw a huge white plane moving unsteadily just slightly below the mountain summit. It was still way above the trees but veering left and right, and then it disappeared," he told AFP by telephone from Tenjolaya district,
"I heard a sound like firecrackers, but I couldn't see it anymore."
By midnight Wednesday, hundreds of rescuers had set up three posts around Mount Salak as they prepared to resume their mission at dawn on Thursday.
Ahmad Rifai, who arrived at the Cidahu rescue base seeking news of his sister, a 30-year-old stewardess who had stood in for a colleague who was supposed to have been on board, broke down as he contemplated her fate.
"Why are rescuers so slow? Why didn't they start searching for it quickly?" complained Rifai, 48. "If they had been quick, maybe my sister would still be..." he trailed off in mid-sentence.
Yudistira Alex, 43, who had several friends on board, arrived at Cidahu late Wednesday.
"They're four of my best childhood friends. We are inseparable like brothers," he muttered between sobs. "I don't know who to blame, maybe this is fate."