JAKARTA, Nov 2, 2010 (AFP) - Indonesia on Tuesday warned airlines to avoid certain routes over central Java as the Mount Merapi volcano belched more heat clouds of gas and ash, while six international flights were cancelled.
Transport ministry spokesman Bambang Ervan said an official warning was issued telling all airlines to "use an alternative route for safety reasons due to the volcanic ash".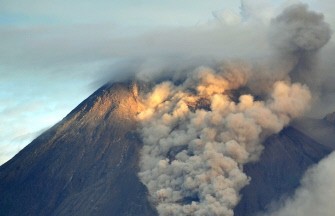 A picture taken from Kemalang, Klaten, in central Java shows Mount Merapi spew hot clouds of ash on November 2, 2010. AFP
Malaysia-based AirAsia said it had cancelled four flights linking Kuala Lumpur to Yogyakarta and nearby Solo on Tuesday, while Silk Air cancelled two flights between Singapore and Solo.
"The flights... to Yogya and Solo have been cancelled only for November 2. We will update if there are any further developments," an AirAsia spokeswoman said, referring to four flights to and from the cities.
A statement from SilkAir, the regional wing of Singapore Airlines, said a flight from Singapore to Solo and its return leg were cancelled.
"Our next scheduled Singapore-Solo flight is on Thursday and we are closely monitoring the situation," the statement said.
Almost 40 people have been killed since the 2,914-metre (9,616-foot) Mount Merapi, the most active of scores of volcanoes in Indonesia, began erupting last week.
It spewed heat clouds high into the air six times after dawn on Tuesday, and volcanologists say such activity is likely to continue for the foreseeable future.
"It could go on for weeks, even months," volcanologist Subandrio told AFP.
Indonesia straddles major tectonic fault lines and is part of a region known as the "Ring of Fire" that circles the Pacific Ocean.