Indonesia prepared Thursday to bury enigmatic former president Abdurrahman Wahid, a devout Muslim scholar who courted ties with Israel and staunchly defended the country's pluralist traditions.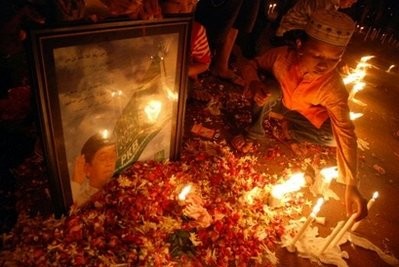 An Indonesian boy, supporter of late president Abdurrahman Wahid, puts a candle in front of a picture of Wahid in Surabaya on December 30. (AFP Photo)
Flags were flying at half mast as a sign of respect for the frail but pugnacious Wahid, who died in hospital on Wednesday evening aged 69 due to complications arising from diabetes and stroke.
Popularly known as Gus Dur, he was practically blind and in later years used a wheelchair, but remained active in public life until the end.
He was Indonesia's fourth president, coming to power in 1999 after the country's first general elections following the fall of military strongman Suharto in 1998.
In a nationally-televised address, President Susilo Bambang Yudhoyono called on Indonesians to pay Wahid their "highest respects".
"I say this with prayers and hope that he is accepted at the side of God for his enormous service to the public, the nation and our beloved state," he said.
Wahid is expected to be buried around midday in a family graveyard at his birthplace in Jombang, East Java, in a ceremony to be presided over by Yudhoyono.
His younger brother, Salahuddin Wahid, told AFP the family was "shocked, sad and grieving".
"He was humorous, happy, clever, brave and really cared about the community. He was full of life and his fighting spirit was strong. Even when he was sick, he would fight on," he said.
Wahid rose to political prominence through his role as a leader of one of the country's biggest mass Islamic movements, the moderate Nahdlatul Ulama (NU), having been a critic of Suharto during the general's three-decade rule.
He defeated Megawati Sukarnoputri to scoop the presidency in a parliamentary vote, even though her Democratic Party of Struggle put in the strongest showing in a general election earlier in 1999.
His time in government was an exciting period of democratic change under the country's post-Suharto "Reformasi" drive, and Wahid was an enthusiastic advocate of ethnic and religious tolerance.
But there were also fears the unwieldy, Muslim-majority archipelago of 234 million people would crumble under the weight of separatist and sectarian conflicts in places such as Aceh, Papua and the Malukus.
Violent Islamic extremism reared its head with the coordinated Christmas-eve bombings of churches in Jakarta and other cities in 2000, which killed 18 people and were blamed on regional terror network Jemaah Islamiyah.
Wahid's response was to crack down on Islamist extremists while seeking dialogue and conciliation with ethnic separatists, the latter strategy putting him at odds both with the military and the Jakarta elite.
He also broke a taboo in Indonesian politics by calling for diplomatic relations with Israel, and backed the lifting of a Cold War-era ban on communism.
It was the liberal and democratic ideas that had earned him international respect that ironically were often at the core of the steady growth of domestic opposition to his leadership.
A moderate religious scholar, Wahid was also criticised in office for his erratic leadership style and was sacked by the national assembly in 2001 amid unproven allegations of corruption and incompetence.
Despite his obvious ailments, Wahid led an active public life and even considered a comeback for the 2009 presidential elections, even if he was often photographed snoozing at conferences and meetings.
NU vice-president Maskuri Abdillah said Wahid would be remembered as a "pluralist" who stood for tolerance in the most populous Muslim-majority country.
"His death is a big loss not just to Nahdlatul Ulama, but also to Indonesians from all races and faiths," he told AFP.