JAKARTA, Aug 13, 2009 (AFP) - A new cache of bomb-making chemicals has been discovered as part of ongoing investigations into the July 17 suicide attacks against luxury hotels in Jakarta, Indonesian police said Thursday.
Police spokesman Sulistyo Ishak said the chemicals were found Wednesday in a rented warehouse in Bogor, West Java, and could be linked to the terror network of Malaysian extremist Noordin Mohammed Top.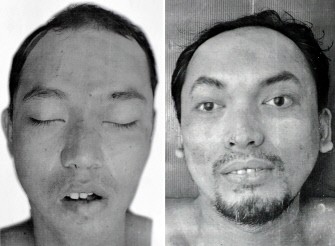 A combo created on August 13, 2009 of file handout black and white picture released by the Indonesian Police on August 12, 2009 shows the face of Air Setiyawan (L), a terrror suspect killed in an indonesian police commando raid in Bekasi near Jakarta on August 8 and alleged militant Ibrohim, killed by police commandos in an August 8 raid at a hideout in Central Java. Malaysian terror mastermind Noordin Mohammed Top is still at large in Indonesia and was not killed in a raid on the weekend, police said on August 12 (AFP photo)
"The materials are being investigated by Detachment 88 counter-terrorism police to find out whether they're similar to those used by Noordin Top's network," he told AFP.
"We can't tell you now what they were going to use this for, such as where and which target."
He said the identity of the man who rented the warehouse on a short-term basis was unknown, but local residents who tipped off police said he bore a resemblance to one of Noordin's accomplices.
"Some said he looked like one of the group members," Ishak said.
The suicide blasts at the JW Marriott and Ritz-Carlton hotels killed seven people, mainly foreigners, and have been blamed on the Noordin network.
The alleged terror financier and recruiter leads an offshoot of the Jemaah Islamiyah regional extremist organisation and is accused of masterminding a series of attacks in Indonesia since 2003 which have killed around 50 people.
Police launched a massive raid on a suspected Noordin hideout on Friday but failed to locate the fugitive Malaysian, killing instead one of his alleged accomplices in the hotel attacks after a 17-hour siege.
Two would-be suicide bombers were shot dead by police in a simultaneous raid on a house in Bekasi, between Jakarta and Bogor, where a large amount of explosive materials and a truck rigged as a bomb were also found.
Police said the truck-bomb was going to be used against the nearby residence of Indonesian President Susilo Bambang Yudhoyono, outside Bogor.