JAKARTA, Aug 8, 2009 (AFP) - The identity of a suspected Islamist killed during a raid in Central Java on Saturday will not be announced until it is confirmed by DNA analysis, Indonesia's police chief said.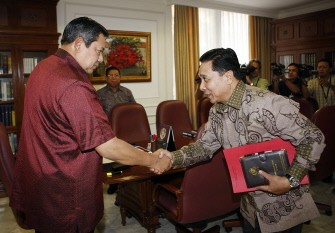 Indonesian President Susilo Bambang Yudhoyono shakes hands with Indonesian police chief Bambang Hendarso (R) at the presidential palace in Jakarta on August 8, 2009 (AFP photo)
National police chief Bambang Hendarso Danuri refused to confirm or deny reports that the suspect was Noordin Mohammed Top, a Malaysian extremist wanted for masterminding multiple suicide bombings in Indonesia dating back to 2003.
"We are not saying yet who was killed... We have to conduct DNA tests first. We have to wait for the laboratory tests and the forensics, so we won't be saying anything yet," he told a press conference.
He confirmed however that only one person had been killed in the 17-hour siege and eventual assault on the isolated farm-house in Beji village, and made no mention of any arrests at the location.
The identity of the suspect would be announced next week, he added.