JAKARTA, Aug 19, 2009 (AFP) - A man believed to be from Saudi Arabia has been arrested on suspicion of smuggling money used to finance last month's deadly Jakarta hotel attacks, Indonesian police said Wednesday.
Police spokesman Nanan Soekarna said the man, identified only as Ali, had been arrested recently as part of the investigation into who funded the July 17 attacks on the JW Marriott and Ritz-Carlton hotels that killed nine people.
Another man identified only as Iwan also had been detained for questioning over his suspected links to the network of Malaysian Islamist extremist Noordin Mohammed Top, the alleged mastermind of the attack.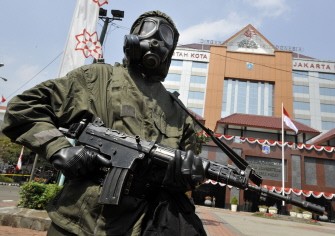 An armed Indonesian soldier from the nuclear, biological and chemical warfare unit wearing a protective suit prepares to search for bombs during a military exercise at Jakarta city mayor's office on August 19, 2009. A man believed to be from Saudi Arabia has been arrested on suspicion of smuggling money used to finance the July 17 suicide bomb attacks. (AFP photo)
"Ali and Iwan are still being questioned by our team to prove their links with another country and with the financing," Soekarna told reporters.
"Ali is believed to be a Saudi Arabian national."
Analysts have said that if the funding for the attacks came from abroad, a likely source would be Al-Qaeda. But police have not confirmed any connection between the hotel blasts and Saudi-born Osama bin Laden's organisation.
Al-Qaeda has allegedly financed previous suicide attacks in Indonesia including the 2002 Bali bombings that killed 202 people, and Noordin's first major operation, a 2003 truck bombing of the Jakarta Marriott that killed 12.
Noordin, 41, leads a splinter group of the Jemaah Islamiyah terror network, which aims to create a regional Islamic caliphate.
He is Indonesia's most-wanted man and is blamed for a series of attacks against Westerners in the mainly Muslim country that have killed around 50 people and wounded hundreds.
He has previously called himself the leader of "Al-Qaeda in the Malay Archipelago" but it is unclear whether there is any ongoing, direct contact between his group and Al-Qaeda.
"The question is whether he only imitates it or whether he has some structural affiliation," International Crisis Group expert Sidney Jones said in a report last week.
DNA tests showed that a suspect killed in an August 8 raid on a militant hideout was not Noordin as initially reported, police said last week.
Police also named four suspected senior members of Noordin's network who are being hunted over the July 17 attacks, including one who was arrested in 2004 and released.
Syaifudin Zuhri bin Djaelani Irsyad, alias Udin or Soleh, is believed to be involved in recruiting suicide bombers, Soekarna said.
Bagus Budi Pranoto, alias Urwah, was convicted in 2004 and jailed for three-and-a-half years for hiding Noordin and his master bomb-maker, Malaysian exile Azhari Husin, who was killed by police in 2005.
The two other suspects were identified as Mohammad Syarir, alias Aing, and Ario Sudarso, also known as Suparjo Dwi Anggoro, Aji or Dayat. Their suspected roles in the blasts were not specified.