Rescue workers on Indonesia's Java island continued to search Friday for dozens of people buried in the rubble by a major 7.0-magnitude earthquake that killed at least 59, officials said.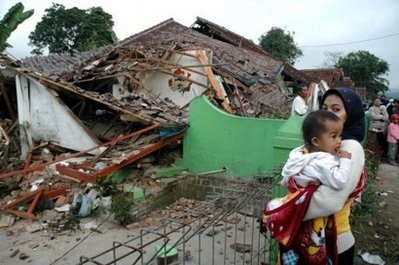 Indonesian residents stand near a collapsed house following an earthquake in Tasikmalaya town in West Java. (AFP Photo)
"At least 59 people were killed... 37 are still trapped," disaster management agency spokesman Priyadi Kardono told AFP.
"We've been using heavy machinery for the rescue effort" in Cikangkareng, a village about 100 kilometres (60 miles) south of Jakarta where the quake triggered a landslide, he said.
The quake struck off the south coast of Java on Wednesday with tremors felt in neighboring islands such as Bali and Sumatra.
"About 31,000 houses have been damaged," Kardono said.
Some victims complained that aid had not arrived swiftly enough.
Maizur, 75, from a village in Pangalengan district in West Java province, said assistance, such as food rations, only came a day after the quake.
"The help should have come on the day of the disaster. Although we have received rice, we still need more medical supplies," she said.
"I have lost my house. That's the only thing that I have," she said, crying.
Kardono said aid had not been allocated fast enough due to the vast area affected by the quake and limited personnel.
Indonesia sits on the so-called Pacific Ring of Fire, where several tectonic plates converge.
A 7.7-magnitude quake triggered a tsunami off southern Java in 2006, killing 596 people and displacing about 74,000.
A massive quake off the coast of the island of Sumatra in 2004 triggered a catastrophic tsunami that killed more than 200,000 people around Asia, including 168,000 in Indonesia.