At least 304 people were killed after a tsunami smashed into fishing villages and resorts on Indonesia's Java island, following a strong undersea earthquake, rescue officials said on Tuesday.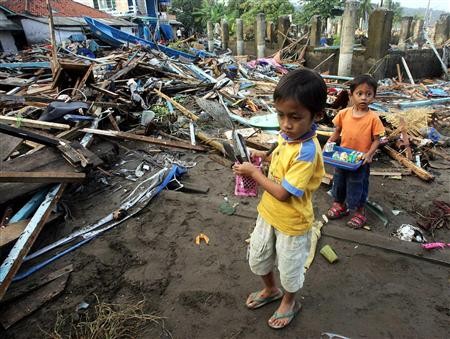 Children stand amid the wreckage of a house in Pangandaran, Indonesia July 18, 2006
No warnings were reported despite efforts around the region to establish early warning systems after the 2004 Indian Ocean tsunami that killed 230,000 people, including 170,000 in Indonesia.
But many residents and tourists recognized the signs and fled to higher ground as the sea receded before huge waves came crashing ashore.
Officials said 304 people were confirmed dead and nearly 150 people were missing after Monday's huge waves crashed into Java's southern coast, washing away buildings, wooden cottages and kiosks lining the shoreline facing the Indian Ocean.
Vice President Jusuf Kalla said the death toll was expected to climb.
"In a tsunami, it is possible that the number (of dead) will increase, especially those who are missing or who have been washed away to sea," he told Elshinta radio.
Kalla said the government's priority was to provide healthcare, food and shelter and then move to evaluating the damage and reconstruction of houses.
Soldiers were trying to retrieve bodies trapped under a collapsed concrete wall
Metro TV reported several bodies were found in trees along Pangandaran beach near the town of Ciamis, 270 km (170 miles) southeast of Jakarta.
A regional government official in the most hard-hit area said that deaths there totaled 171, while the Indonesian Red Cross said the dead in other areas totaled 60.
There were no reports of casualties or damage in any other country from Monday's tsunami.
Indonesia's 17,000 islands sprawl along a belt of intense volcanic and seismic activity, part of what is called the "Pacific Ring of Fire".
Earthquakes are frequent in Indonesia. In May, an earthquake near the city of Yogyakarta in central Java killed more than 5,700.
(Source: Reuters)