Indonesia, Nov 23, 2009 (AFP) - The captain of an Indonesian ferry which sank killing 29 people rejected claims of overcrowding Monday and blamed a freak storm for the disaster, as officials launched an investigation.
The search for survivors from the Dumai Express resumed for a second day off Karimun island, near Singapore, amid fears scores of people could be lost at sea or trapped in the wreck at the bottom of the Malacca Strait.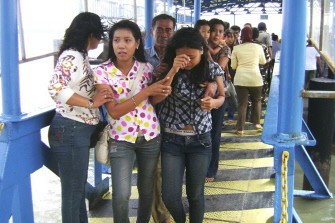 Survivors from the 147-tonne Dumai Express ferry which went down in heavy rain and huge swells off Karimun island - Sumatra arrive at the port on November 22, 2009 (AFP photo)
With the official toll standing at 29 dead and 250 rescued, officials arrived at Karimun to try to piece together what caused the latest in a litany of ferry disasters in Indonesia, an archipelago of 17,000 islands.
The 147-tonne vessel's capacity was 273 passengers and crew, but local police said more than 400 people could have been on board. Two survivors told AFP its decks were packed with undocumented passengers.
Captain Johan Napitupulu rejected the allegations and said he had no warning he was sailing into a massive storm when he left Batam island on Sunday morning.
"The weather was fine when we left Batam port. There was no sign of rain and we also didn't get any warning from anybody saying the weather could turn bad at sea," he told AFP.
"About half an hour later the weather suddenly turned really, really bad. The waves were higher than two metres (six feet), the winds and currents were strong."
The captain said the crew had done all it could to arrange lifeboats and life-jackets for the terrified passengers.

"The ferry was sinking fast, front first. Within 27 minutes it was totally submerged... There was panic, everyone was screaming," Napitupulu said.
Survivor Amir Azli, a 56-year-old high-school teacher, estimated more than 350 people were on board, many with heavy suitcases as they set off to spend time with their families ahead of a Muslim holiday on Friday.
"I saw at least 50 people without tickets sitting on the top deck of the ferry... It wasn't just the bad weather," he said as he recovered in Tanjung Balai on Karimun.
"The ferry was overloaded so of course I'm angry that the ferry operator broke the safety rules and people had to die because of that."
Another survivor, 25-year-old factory worker Zulfitri added: "The ferry was overcrowded with people and things. On the first floor there were people standing because they had no seats".
"They didn't tell us there was a problem but only asked us to stay calm. We only realised we were in trouble when we saw the ferry sinking and that's when we demanded life-jackets," she said.
Karimun-based Navy Lieutenant-Colonel Edwin said the boat's manifest listed 242 passengers and crew including 15 children, indicating some of the passengers were undocumented.
"There's an indication of overcapacity," he told AFP.
"The chances of finding survivors are still high because they were wearing life-jackets."
Heavy seas were preventing navy divers from finding the wreck to determine if anyone was trapped below decks, he said.
Ferry disasters are common in Indonesia despite repeated official promises to tighten and enforce safety regulations.
Up to 335 people were killed when a heavily overloaded ferry sank off Sulawesi island in January. In December 2006 a ferry went down in a storm off the coast of Java, killing more than 500 people.
The actual number of deaths from such sinkings is rarely known because captains and port masters routinely falsify how many passengers are on board, or simply fail to count them.