JAKARTA, July 20, 2009 (AFP) - Indonesian police Monday were trying to rebuild the face on a severed head found at the scene of deadly hotel blasts in Jakarta in an attempt to identify one of two suspected suicide bombers.
The grisly forensic work could provide a key breakthrough in the investigation into Friday's twin suicide attacks on the luxury JW Marriott and Ritz-Carlton hotels, which killed up to nine people including two militants.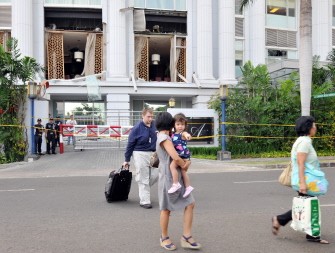 Tenants leave the Airlangga apartements, integrated with the Ritz Carlton hotel in Jakarta on July 19, 2009. Indonesian police on 19 July confirmed regional terror outfit Jemaah Islamiyah as the culprits behind twin suicide blasts at Jakarta hotels. (AFP photo)
One of the bombers apparently targeted a regular weekly breakfast gathering of Western businessmen at the Marriott, killing three Australians including a diplomat, and a company executive from New Zealand.
More than 53 people were injured in the blasts, which officials suspect were the work of regional Islamist network Jemaah Islamiyah (JI), responsible for the 2002 Bali attacks and dozens of other bombings since the late 1990s.
Jemaah Islamiyah draws inspiration from Al-Qaeda and has had extensive links with global jihadists as it seeks to create an Islamic caliphate spanning much of Southeast Asia including Indonesia, Malaysia and the southern Philippines.
Police said an unexploded bomb left in a guest room of the JW Marriott resembled devices used in the Bali bombings, which killed 202 people, and one discovered in a recent anti-JI raid on an Islamic school in Central Java.
"They are from the same school. We found similar materials, similar tools, a similar method. That's their job, that's the same network, they are JI," national police spokesman Nanan Soekarna told a press conference Sunday.
He said investigators were reconstructing the mangled face on a head found at one of the hotels, with a view to creating an image that could be shown to witnesses.
Police say nine people were killed and 53 injured in the attacks. Foreign Minister Hassan Wirayuda on Saturday put the death toll at eight.
Security has been tightened at hotels and resorts across the vast, mainly Muslim archipelago of 234 million people, including the eastern resort island of Bali, which is usually packed with foreign tourists, especially Australians.
Australia issued a travel advisory urging citizens to reconsider travelling to the country and warning that more extremist attacks are possible.
"There is a possibility of further terrorist attacks in Jakarta and elsewhere in Indonesia, including Bali," it said in the updated advisory.
Investigators say the bombers stayed in Room 1808 of the Marriott for two nights before the attacks and disguised themselves as guests when they walked into crowded dining and meeting areas and detonated their suitcase devices.
The bombs were brought into the neighbouring hotels despite airport-style security measures put in place after the 2002 Bali attacks.
A report in The Sydney Morning Herald newspaper on Monday suggested the Marriott bomber was very deliberate about his target -- the weekly business breakfast which attracted some of Jakarta's most influential foreigners.
It said the Marriott bomber was a man wearing a backback on his chest and dragging a suitcase who was caught by security cameras entering the dining area shortly before the blast, although police have not confirmed this.
A security guard asked him where he was going and the man, who looked Indonesian, replied that he was going to meet his boss.
"I want to deliver what my boss ordered," the man reportedly said.
Senior Indonesian anti-terrorist officials have said the attacks look like the work of fugitive Malaysian-born extremist Noordin Mohammed Top, who leads a violent splinter faction of JI.
One of Asia's most wanted men, Noordin is accused of masterminding bombings at the Jakarta Marriott in 2003, the Australian embassy in 2004 and Bali restaurants in 2005, which killed more than 40 people.