JAKARTA, Nov 5, 2009 (AFP) - Indonesian President Susilo Bambang Yudhoyono on Thursday demanded the suspension of top police and prosecutors mentioned in wiretap recordings exposing an alleged plot to frame anti-graft investigators.
But the suspensions of chief detective Susno Duadji and Deputy Attorney General Abdul Hakim Ritonga may not be enough to calm public anger over the scandal, amid calls for the police chief and attorney general to resign.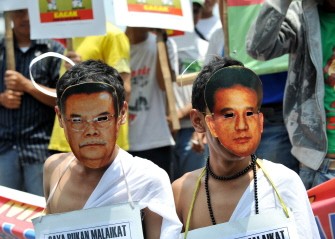 Two Indonesian protesters wear masks featuring images of Chandra Hamzah and Bibit Samad Riyanto, to support the two officials of the Corruption Eradication Commission in Jakarta Nov. 5 (AFP photo)
"I've advised the police chief and the attorney general to suspend those whose names were mentioned in the tape recordings and discharge them from their duties," Yudhoyono told a cabinet meeting.
Yudhoyono has been under mounting pressure to take action after the secret recordings captured senior police and prosecutors discussing ways to apparently frame two deputy chairman of the Corruption Eradication Commission (KPK).
Attorney General Hendarman Supandji, who has ignored repeated calls to resign over corruption within his department, told reporters that Ritonga had informed him of his intention to step down in light of the recordings.
"He met me yesterday to say he was going to resign and this morning he will submit a written statement to me," he said.
National police chief Bambang Hendarso Danuri, who has been a strong supporter of his chief detective even after he emerged as a key player in the alleged plot against the KPK, said Duadji would also resign.
"We can't just sack him. He'll resign for sure ... " he told reporters.
The KPK tapes were played in a nationally televised session of the Constitutional Court on Tuesday, six days after the two KPK officials, Chandra Hamzah and Bibit Samad Riyanto, were arrested by police on corruption charges.
The tapes sparked protests across the country amid widespread public sympathy for the KPK and outrage at rampant corruption within the police force and the Attorney General's Office.
The KPK has made enemies across the spectrum of Indonesian government and administration for its successful corruption prosecutions and its far-reaching powers to wiretap suspects and probe their bank accounts.
But it has strong support among the public in a country that ranks 126th out of 180 on Transparency International's corruption perceptions index for 2008, alongside Honduras and Libya.
Members of a "fact-finding team" appointed by Yudhoyono on Monday to look into the conduct of the police surrounding the arrests of the anti-graft commissioners said they were already talking about quitting.
"I'm facing a wall with the police, the prosecutors and the country's apparatus," team chairman Adnan Buyung Nasution, an independent lawyer and former democracy activist, told AFP.
Another team member, political analyst and Paramadina University rector Anies Baswedan, added: "The team will discuss whether to quit today. If our recommendations are not followed, yes, I will quit".
The team has demanded the resignations of Duadji and Ritonga and the ongoing detention of Anggodo Widjojo, the brother of a KPK suspect whose taped phone calls to police and prosecutors were played in court on Tuesday.
University of Indonesia political analyst Arbi Sanit said the Indonesian people expected more than the resignations of the chief detective and deputy chief prosecutor.
"It's not enough that only Susno and Ritonga resign, the national police chief and attorney general should also resign if they still want to be respected," he told AFP.
"After they resign, all of them need to be prosecuted legally."