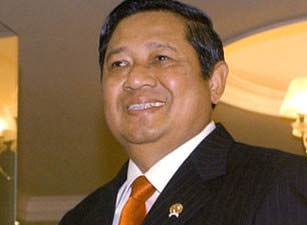 Indonesian President Susilo Bambang Yudhoyono
KUALA LUMPUR, Nov 11, 2009 (AFP) - Indonesian President Susilo Bambang Yudhoyono arrives in Malaysia Wednesday for a visit aimed at smoothing over the latest spats between the neighbours, who have a history of troubled relations.
Yudhoyono will be given a full state welcome at Parliament Square in the afternoon, before an evening audience with Malaysia's king and a state banquet. On Thursday he will hold talks with Malaysian prime minister Najib Razak.
Discussions are expected to cover allegations of mistreatment of Indonesian maids, a territorial dispute, regional terrorism and wrangles over cultural issues that have caused anger in Indonesia.
"I think we have our ups and downs," Malaysian Home Minister Hishammuddin Hussein told AFP ahead of the visit.
"What is important is that wisdom and sincerity prevails among our top leaders so that (contentious issues) will not jeopardise our relationship."
Hishammuddin said the discussions between Najib and Yudhoyono would cover the issues of "foreign workers, terrorism, Islamic militancy, border security and drug trafficking".
Relations have dived since June when Indonesia said Malaysian warships entered oil-rich waters of the disputed Ambalat area in the Sulawesi sea off northeastern Borneo island.
An Indonesian navy ship came within moments of firing on a Malaysian vessel.
Tensions have been aggravated by horrific cases of abuse against Indonesian maids, which led to Jakarta putting a temporary ban on sending domestic workers to Malaysia.
One of Asia's largest importers of labour, Malaysia depends heavily on domestic workers, mainly from Indonesia, but has been criticised for not introducing legislation to enshrine their rights and conditions.
Cultural issues, long a flashpoint between the two countries, have also added to the troubles.
Foreign minister Anifah Aman met his Indonesian counterpart in September after anger erupted over erroneous reports that Malaysia had screened tourism advertisements featuring the traditional "pendet" dance of Indonesia's Hindu-majority Bali island.
The ad was actually a promotion for a Discovery Channel programme, but did little to quell a media-fuelled rage in Indonesia that saw protesters vow to "crush Malaysia" and organise vigilante sweeps aimed at rounding up Malaysians.
"The visit by the Indonesian president will help mend ties and allow the two leaders to reconcile and strengthen their bond," Mohamad Abu Bakar, professor of international relations at University Malaya, told AFP.
"The relationship of the two Southeast Asian countries is stable but we see minor eruptions," he said.
Hishammuddin said relations between the two sides remained strong in the area of security.
"At the operations level, the relationship is very strong. If not you will not see Mas Selamat and Noordin Mohammed Top brought to book," he said.
In September, Indonesian security forces working with unspecified cooperation from Malaysia, killed Noordin, a 41-year-old Malaysian who led a violent splinter faction of the Jemaah Islamiyah (JI) radical network.
He is believed to have masterminded suicide bombing at two Jakarta hotels in July, as well as a string of other attacks including the 2004 bombing of the Australian embassy in Jakarta and 2005 attacks on the holiday island of Bali.
Malaysian security services said in July that with the help of Indonesia and Singapore, they had captured militant Mas Selamat bin Kastari, head of the JI cell in Singapore who had been on the run for more than a year after escaping from a high-security detention centre in Singapore.
Yudhoyono will travel to Singapore on Thursday to attend the Asia-Pacific Economic Cooperation (APEC) summit.