JAKARTA (AFP) – US President Barack Obama said Wednesday Muslim-majority Indonesia's national philosophy of unity between people of different faiths and ethnic backgrounds is an inspiration to the world.
"This is the foundation of Indonesia's example to the world, and this is why Indonesia will play such an important role in the 21st century," Obama said in a speech at Indonesia's national university during a visit to Jakarta.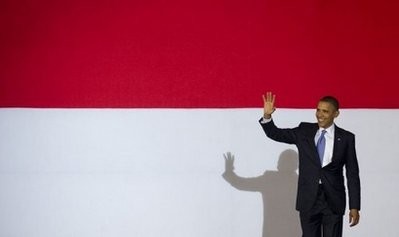 US President Barack Obama waves as he arrives to deliver a speech at the University of Indonesia in Jakarta on November 10, 2010. AFP
The president said his childhood years living in Jakarta with his late mother and Indonesian stepfather had helped shape his own understanding of the world and to respect the diversity of humanity.
"Because Indonesia is made up of thousands of islands, hundreds of languages, and people from scores of regions and ethnic groups, my times here helped me appreciate the common humanity of all people," he said.
"And while my stepfather, like most Indonesians, was raised a Muslim, he firmly believed that all religions were worthy of respect.
"In this way, he reflected the spirit of religious tolerance that is enshrined in Indonesia's constitution, and that remains one of this country's defining and inspiring characteristics."
Around 6,500 people, mainly students, cheered and laughed as Obama joked in Indonesian and interrupted his speech to mimic the call of street vendors selling satay -- an Indonesian specialty -- which he remembered from his childhood.
Before his speech, Obama visited the the Istiqlal Mosque, Southeast Asia's biggest mosque.
Imam Haji Mustapha Ali Yaqub led Obama and First Lady Michelle -- looking elegant in a silky flowing chartreuse pant suit and beige head covering adorned with gold beads -- around the vast, domed structure in central Jakarta.