Hundreds of Indonesian workers on Thursday rallied in front of the Japanese embassy to protest the closure of three Japanese factories on the outskirts of the capital.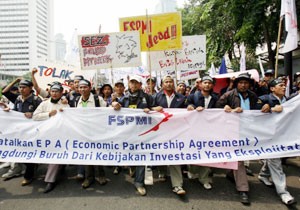 Workers of Panasonic Indonesia march toward the Japanese embassy during a protest in Jakarta, Oct. 25, 2007 (AFP Photo)
About 500 protestors called for the Japanese and Indonesian governments to act following the shutdown of a glass factory and two electronics plants since July which has left nearly 2,400 workers jobless.
"We demand the governments of Japan and of Indonesia (take responsibility for) the closing of the factories and the impact this has caused," a tract distributed by the protestors said.
"Halt the closure of factories and the massive dismissal of workers," one of their banners read.
It was not immediately clear why the factories had been closed.
Five representatives of the protestors were received by embassy officials and the group later dispersed.