There was nothing sophisticated about the suicide bombing at an Indonesian church Sunday -- using homemade explosives packed with nails, nuts and bolts, the bomber killed only himself.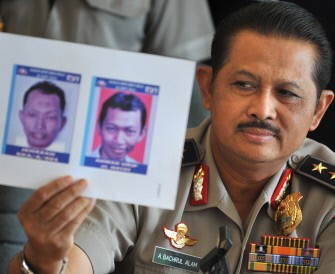 National Police spokesman Anton Bachrul Alam holds up photographs of Ahmad Yosepa Hayat, the Bethel Injil Church bomber, during a press conference in Jakarta on September 27, 2011.
The attack was in stark contrast to the country's deadliest terrorist incident nine years ago, when the Al-Qaeda-linked Jemaah Islamiyah (JI) killed 202 people, mostly foreigners, in the highly planned Bali bombings.
With networks such as JI suffering serious damage in the face of a remarkably successful crackdown by Indonesian security forces, a new generation of loosely-connected jihadists has been left to step up.
"The weakening of the large organisations is something positive. Indonesia has done a pretty damn good job of basic law enforcement," International Crisis Group analyst Sidney Jones told AFP.
"The chances are less likely you'll get an attack of that magnitude," she added, referring to the Bali bombings.
Instead the world's most populous Muslim-majority nation has seen a spate of smaller attacks on minority religious groups both from bombers and in incidents of mob violence.
Details that have emerged about Sunday's attack indicate that these small groups are finding strength and solidarity in their loose alliances.
Police identified Sunday's bomber as 31-year-old Ahmad Yosepa Hayat, a member of Jemaah Ansharut Tauhid (JAT), which was founded by militant spiritual leader Abu Bakar Bashir.
Hayat was sitting among the Bethel Injil Church congregation in Solo, Central Java, when he stood up and detonated a bomb strapped to his stomach, killing himself and wounding 27 others.
Hayat was already on Indonesia's most-wanted list for his role in another suicide attack five months ago in far-away Cirebon, 300 kilometres (186 miles) east of Jakarta, where another bomber attacked a police mosque.
That incident bore striking similarities to Sunday's attack, with the bomber managing to kill only himself, and the explosives containing nails, nuts and bolts.
In recent years Indonesia's police anti-terror unit, Detachment 88, has killed some of the country's most-wanted militants, including Noordin Top, believed to have played a role in every major terrorist attack in the country's recent history, and Dulmatin, who had a hand in the Bali bombings.
JI's spiritual leader Abu Bakar Bashir was sentenced in June to 15 years' imprisonment for funding a militant training camp in Aceh on Sumatra island, where special autonomy allows the region to implement some sharia laws.
But the attacks on religious minorities and "enemies of Islam" over the past year have been carried out by new cells -- with old ties -- and mostly made up of young men from vulnerable communities.
In an editorial, the Jakarta Globe said there was "no shortage of young people willing to take up the jihadist cause" and warned Indonesia is heading down a "very dangerous path".
Jones said there are seven or eight known small groups operating in Solo alone, which are "all in communication with one another" and beginning to merge their agendas.
"Every time we've seen one of these smaller networks emerge, there have been at least one or two members with links to older networks," she said.
"They're harder to detect than bigger networks. They understood it was dangerous for them to use mobile phones to communicate, which makes it much more difficult for police to track them down."
Critics of the government say it has done nothing to combat sectarian attacks, which while less deadly, have seen worrying incidents of mob violence.
A court sentenced 12 Muslim radicals to just a few months in jail for an attack on members of the minority Muslim sect Ahmadiyah, in Cikeusik in West Java in February.
The machete-wielding mob clubbed, hacked and stoned three defenceless men to death in front of police.
Victims who survived the attack were handed longer sentences than their assailants for "provoking violence".
On September 12, on Indonesia's remote Maluku islands, violence erupted in the provincial capital Ambon after rumours spread through text message that a Muslim motorcycle taxi driver had been attacked and killed by Christians.
"The government didn't take strong action in Ambon, so this has created a wake-up call to jihadis to do something," the Institute for International Peacebuilding security analyst Noor Huda Ismail said.
"We need to have transparent and accountable law enforcement. Of course if Indonesia doesn't enforce the law these groups will keep doing these attacks."