US computer chip giant Intel posted its best earnings ever in 2010 as businesses beefed up data centers to handle services increasingly shifting to the Internet "cloud."
Intel said it took in a net profit of $11.7 billion for the year on revenue of $43.6 billion, a 167 percent jump from the profit it posted in 2009.
"2010 was the best year in Intel's history," the California-based company's chief executive Paul Otellini said in comments released with the earnings report. "We believe that 2011 will be even better."
Intel's net profit for the final quarter was $3.4 billion, a 48 percent increase from the same quarter a year earlier.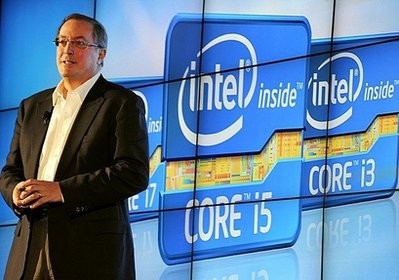 Intel President and CEO Paul Otellini speaks at the Intel press conference at the 2011 International Consumer Electronics Show on January 5, in Las Vegas, Nevada
Intel's stock price climbed more than two percent to $21.75 a share shortly after the release of the earnings results.
Executives said that Intel's business was being driven by emerging markets such as China, the consumer side of the market, and "the build out of the cloud" to add muscle to data centers to handle online services and software.
"The stand-out was the data center group," Otellini said of the company's performance. "Intel is positioned to benefit from the growth of the data center and cloud computing."
Intel projected revenue of $11.5 billion for the current quarter and said that it expected to spend nearly $14 billion this year on researching and developing products and acquisitions or mergers.
Intel on Monday announced it would pay graphics card developer NVIDIA $1.5 billion over the next five years to settle a patent dispute.
The companies have been arguing for nearly two years about whether a deal they inked allows NVIDIA to produce chipsets that work with Intel microprocessors.
Intel filed a complaint in court in February 2009, asking a judge to decide which side is right.
NVIDIA counter-sued a month later.
"This agreement ends the legal dispute between the companies, preserves patent peace and provides protections that allow for continued freedom in product design," Doug Melamed, Intel general counsel, said in a statement.
Intel will be allowed to use some of NVIDIA's patents under the deal.
Otellini promised that Intel's Atom chips would be seen in an array of tablets and smartphones hitting the market, which is rich in gadgets built with rival ARM processor technology.
Last week, Intel wowed a major Consumer Electronics Show (CES) in Las Vegas with a speedy new generation of chips that thwart film piracy and enable quick handling of data-rich video and games.
The second-generation Intel Core processors, referred to as "Sandy Bridge," have been built into computers big and small, many of which were displayed at CES.
Otellini called the chip with processor-based graphics "the best product we've ever built."
Building graphics computing into chips enables slick handling of games, images and video at a time when lifestyles are increasingly shifting to online entertainment loaded with data sent online.
Intel worked with major US and Indian film studios, including Warner Brothers, DreamWorks, Yash Raj Films and 20th Century Fox to craft copyright-guarding technology into the chips.
Sandy Bridge chips will be featured in 500 devices from mobile handsets to notebook and desktop computers, according to Intel.
Sandy Bridge will represent more than a third of Intel's revenue this year, and generate 125 billion dollars in revenue for the PC industry, Otellini predicted.