TUNIS (AFP) – Interpol issued an arrest warrant for Tunisia's toppled president Zine El Abidine Ben Ali as protests demanding a clean break with the past mounted ahead of a major cabinet revamp due Thursday.
The cross-border police agency said that member states, including Saudi Arabia where Ben Ali fled, were asked to "search, locate and provisionally arrest Mr Ali", pending a formal extradition request from Tunis.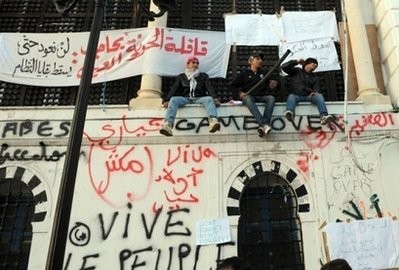 AFP- Residents from the central Tunisian regions of Sidi Bouzid and Kasserine protest in front of Prime Minister Mohammed Ghannouchi's office in Tunis
The warrant applied to Ben Ali and six family members, including his unpopular wife Leila Trabelsi, the statement said.
Ben Ali, his wife and other members of his once all-powerful family are accused of illegally acquiring assets and transferring funds abroad during his 23-year rule, Justice Minister Lazhar Karoui Chebbi said in Tunis.
"No one will be above the law," Chebbi told reporters.
The US State Department declined to take a position on the arrest alert.
"This is a matter for Tunisian authorities," State Department spokesman Philip Crowley told reporters.
But both the US and Russian presidents said the Tunisian unrest was a lesson for all.
"No matter what country we are talking about, when the authorities don't meet the aspirations of the society the outcome is very bad," Russia's Dmitry Medvedev said in the Swiss resort of Davos.
And US President Barack Obama said in his State of the Union speech that "the will of the people proved more powerful than the writ of a dictator".
Ben Ali resigned abruptly and fled in disgrace on January 14 after a grisly suicide by a jobless young man snowballed into nationwide protests against high prices, rising unemployment and rampant corruption.
Thirty-three members of his extended family have already been arrested in Tunisia.
Tunisia has frozen huge assets held by the family and France and Switzerland have said they will also block any Ben Ali holdings in their countries.
The justice minister also said the head of Ben Ali's presidential guard and five others were being investigated for violence following his ouster.
The news came as tensions mounted ahead of a radical revamp of the interim administration, as thousands of protesters across Tunisia called for the government to resign, accusing it of being too closely tied to the old regime.
"The composition of the new government will be announced tomorrow (Thursday)," government spokesman Taieb Baccouch said, the TAP state news agency reported.
Talks on the cabinet have been held up by differences over the defence, foreign and interior ministry posts, sources close to the government told AFP.
Riot police meanwhile tear-gassed protesters who have been rallying in the main government quarter in Tunis for four days calling for the government to quit after some of them tried to force through security barriers.
Trade unions held a general strike in Sfax, Tunisia's second biggest city, and declared another strike for Thursday in Sidi Bouzid, the town where the uprising against Ben Ali started with a social protest last month.
The Arab world's first popular revolt in recent history has inspired many dissidents across the region and protesters have taken to the streets of Algeria and Egypt in recent days to call for a Tunisia-style uprising.
The government has struggled to restore order in recent days.
On Wednesday it eased the timing of a curfew, which will now operate between 10pm and 4am because of "improved security" conditions.
But many schools and universities have remained shut for more than two weeks despite orders to re-open because of strike action.
Tunisia has announced unprecedented democratic freedoms but Mohammed Ghannouchi, who has been prime minister since 1999, has said he will stay on as head of the interim government until elections that have yet to be scheduled.
The government has said 78 people were killed during the anti-Ben Ali protests. On Wednesday it said that 74 prisoners also died in recent riots.