On the eve of the long-awaited and too-close-to-call first voting in 2008 White House nominating contests, top candidates will Wednesday zigzag across Iowa to plead for every last vote.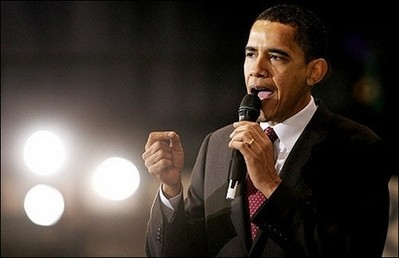 Democratic presidential hopeful and Illinois Senator Barack Obama speaks during a rally at Roosevelt High School's gymnasium in Des Moines, Iowa (Photo: AFP)
The longest, most expensive presidential race officially kicks off at the fabled Iowa caucuses on Thursday, the curtain-raiser contest which could shape a flurry of electoral clashes to come.

Hillary Clinton and Barack Obama, locked in a three-way battle in the state with John Edwards, planned Iowa-wide campaign blitzes, as their battle in the state was down to its final hours, after months on the campaign trail.

Both were due to unveil much-hyped final messages to voters in television advertisements scheduled for prime time local news bulletins on the eve of caucus night.

Increasingly, the key to the caucuses looked to hang on whether Obama could get legions of previously fickle young and first-time caucus goers to show up on Thursday.

Clinton, though also targeting first-time caucus goers, holds events packed with older, and female voters -- a demographic more likely to caucus in large numbers and Edwards still hoped to surge between the two rivals to victory.

Republicans Mike Huckabee and Mitt Romney meanwhile aimed last punches of the nasty Iowa campaign, while comeback candidate Senator John McCain planned a last minute return trip to the state, a day after topping the latest opinion poll in New Hampshire which holds the next nominating contest on January 8.

On Tuesday, rival candidates hunted down last wavering voters and Obama basked in a poll giving him a surprise seven-point lead, although Clinton's team said it was inaccurate.

"We stand on the brink of something very, very special here in Iowa," Obama told 400 cheering supporters thrilled by a trademark soaring speech delivered in a crammed school gymnasium.

"Now after 10 months it looks like it might just work ... the polls look good," he said, but warned against complacency.

In an another significant move, long-shot Democrat Dennis Kucinich instructed his backers to switch to Obama in caucus meetings where he did not meet a 15 percent support threshold to be allowed to compete.

Second choice preferences of activists who favor minor candidates often play a crucial role in deciding who wins the caucuses.

A 7News/Suffolk University poll in New Hampshire had McCain ahead of Romney 31 to 25 percent in the northeastern state, a stunning comeback after his campaign almost ground to a halt earlier this year.

"This is going to come down to the wire and people are not going to make up their minds until the very end," McCain told CNN in New Hampshire.

Romney, a former Massachusetts governor, is now under severe pressure with ex-Baptist preacher Mike Huckabee ahead of him in some Iowa polls and now trailing McCain in New Hampshire. He needs both states to build up heat behind a nationwide challenge.

Clinton's top strategist meanwhile hit back at Obama in the war of political spin over polls, seizing on two surveys showing her leading.

"Voters should understand this is a very close race, and that their participation on caucus night could make all of the difference," Mark Penn said.

Clinton aides said a Des Moines Register survey, which had Obama on 32 percent, the former first lady on 25 percent and ex-senator John Edwards on 24 percent, overstated the role independent voters would play in the caucuses.

They said in the 2004 turnout model been used, Clinton would have led by two points.

Deepening the confusion, two new polls published Tuesday had Clinton leading. A Zogby poll had Clinton leading Obama 30 percent to 26 percent. A CNN/Opinion Research poll has her on 33 percent, Obama on 31 and John Edwards on 22.

Among Republicans, the Register poll had former Arkansas governor Huckabee holding his lead on 32 percent over Romney on 26 percent with McCain third.