A leading Iranian nuclear scientist was murdered in Tehran on Tuesday in a rare bomb attack that the government quickly blamed on "mercenaries" in the pay of archfoes the United States and Israel.
The daylight killing came amid an increasingly bitter standoff between Iran and world powers over Tehran's controversial nuclear drive, which the West suspects is masking an atomic weapons programme.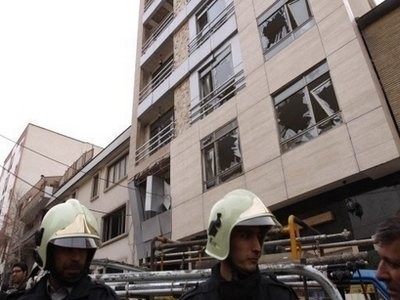 Iranian firemen stand outside the building where a remote-controlled bomb explosion killed an Iranian university lecturer in Tehran
Massoud Ali Mohammadi
, a
particle physics professor
at prestigious Tehran University, died when a bomb strapped to a motorcycle was triggered by remote control as he was getting into his car outside his home in the capitals well-to-do northern suburbs, state media and a senior official said.
"One can see in preliminary investigations signs of evil by the triangle of the Zionist regime, America and their mercenaries in Iran in this terrorist incident," foreign ministry spokesman Ramin Mehmanparast said.
The United States dismissed the allegations out of hand.
"Charges of US involvement are absurd," State Department spokesman Mark Toner said in Washington.
Tehran's chief prosecutor also implicated the United States and Israel, saying their intelligence services were likely behind the attack.
"Given the fact that Massoud Ali Mohammadi was a nuclear scientist, the CIA and Mossad services and agents most likely have had a hand in it," Abbas Jafari Dolatabadi told the state broadcaster's news service.
Last month, Iran accused the United States of seizing an Iranian scientist while he was on pilgrimage in Saudi Arabia, a claim Washington refused to comment on and that Riyadh denied, and an Iranian statement drew parallels.
"On the one hand, US government spy agents kidnap Iranians in third countries and transfer them to America and on the other hand their sellout agents in Iran assassinate a scholarly citizen.
"Intelligence and security bodies will try to identify and arrest the perpetrators of this crime and expose their foreign backers," added the statement, carried by the Fars news agency.
Tehran University's Basij, or voluntary Islamist student militia, said Mohammadi's named had been included on an international blacklist linked to Iran's atomic drive.
"Dr Massoud Ali Mohammadi, whose name was on the list of sanctioned individuals ... was one of the outstanding professors of Tehran University's physics faculty," said the statement carried by the official IRNA news agency.
The students were referring to sanctions imposed by the United Nations, United States and European countries on individuals and institutions linked to Iran's nuclear programme.
Bomb attacks are rare in Iran although several security officials and members of the elite Revolutionary Guards have been killed in bombings by rebels in the restive southneastern province of Sistan-Baluchestan.
A witness told AFP Tuesday's explosion was a "strong blast breaking windows in neighbouring houses and cars."
Iranian authorities have consistently accused the United States and Israel of seeking to foment unrest in Iran, and the two countries have never ruled out a military strike to thwart Iran's controversial nuclear drive.
None of the reports said whether Ali Mohammadi was connected to Iran's nuclear enrichment programme and a colleague described him as non-political.
"He was a prominent full professor but he was not a political figure. He had no political activity," Ali Maghari, who heads the faculty of sciences at Tehran university, told the Mehr news agency.
However, Ali Mohammadi's name appeared on a list of academics backing Iranian opposition leader Mir Hossein Mousavi for the disputed June 12 presidential election, which gave President Mahmoud Ahmadinejad a second term.
The opposition claims the vote was massively rigged in Ahmadinejad's favour. For the past six months, it has been holding anti-government protests at every opportunity, many of which have been broken up by police who have arrested hundreds of demonstrators.
Iran has been under international pressure to suspend uranium enrichment, the sensitive process which is at the centre of Western fears about its ambitions as it can make nuclear fuel but can also be used to make atom bombs.
Despite three sets of UN Security Council sanctions, Iran has continued to expand its nuclear programme, which it insists is for peaceful purposes only.
Representatives of the six powers dealing with Iran over its nuclear programme -- Britain, China, France, Germany, Russia and the United States -- are to meet in New York on Sunday to discuss whether to propose further sanctions, a diplomat at the United Nations said.