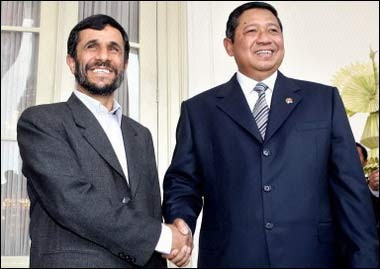 Mr. Mahmoud Ahmadinejad (L) and Mr.Susilo Bambang Yudhoyono before heading for a meeting at the Presidential Palace in Jakarta (AFP photo)
"The Iranians are capable of defending their own rights and interests," Iranian President Mahmoud Ahmadinejad told a press briefing after meeting his Indonesian counterpart Susilo Bambang Yudhoyono.
"The resistance of the Iranian people is not only in defence of the rights of the Islamic world but also the rights of all the people in the world," he said in response to a question about Iran's nuclear program.
"We think that this is the right of every nation: to use modern science and technology, and the right has been enshrined in the previsions of the NPT," he said, referring to the nuclear Non-Proliferation Treaty.
The NPT is the cornerstone of the global effort against the spread of nuclear weapons.
Yudhoyono told a press briefing after meeting his Iranian counterpart that Indonesia believes Iran's nuclear program is peaceful and that diplomacy can resolve the international stand-off.
"Indonesia believes that Iran's nuclear program is peaceful and all problems related to the Iranian nuclear program can be solved in a good manner and diplomatically by involving many parties in the international community."
Indonesia, the world's most populous Muslim nation, has said in the past that it supports efforts by signatories of the NPT to pursue peaceful nuclear technology.
"I expressed the view of Indonesia concerning the nuclear program of Iran. Indonesia expressed concern about the ongoing tension over Iran's nuclear program," Yudhoyono said.
"We hope that open conflict can be avoided. I also believe that Iran can continue talks and negotiation. All parties must use the opportunity to find a peaceful and diplomatic solution."
Iran says it only wants to enrich uranium to generate atomic energy, as is authorised by the NPT. But the process can be extended to make weapons, sparking Western demands for a suspension of Tehran's enrichment work.
Ahmadinejad was speaking for the first time since he sent an 18-page letter to US President George W. Bush, which US Secretary of State Condoleezza Rice dismissed as containing "nothing new" offering hope of resolving the dispute.
Iran has said it is awaiting a reply from the US president.
Bush has not ruled out military action against Iran, which Washington also accuses of being the world's "leading sponsor of terror", though he said on Tuesday that diplomacy remained the first and most important option.
Ahmadinejad arrived earlier in Jakarta for a visit during which he may ask Indonesia to play a mediating role with Western nations over his country's contested nuclear program.
Ahmadinejad was greeted amid tight security by Indonesian Foreign Minister Hassan Wirayuda and about two dozen Indonesian and Iranian officials.
Indonesian foreign ministry spokesman Desra Percaya said Indonesia could "play the role of a middleman" between Iran and its Western opponents.
During his five-day visit, Ahmadinejad is expected to sign agreements on energy cooperation and tourism.
He is also due to give a speech at the University of Indonesia, hold talks with students at the Syarif Hidayatullah Islamic University and meet the Indonesian Chamber of Commerce.
His plans include attending Friday prayers at Jakarta's Istiqlal mosque after meeting Islamic leaders, and then flying to Bali to attend a meeting of the Developing-8 (D-8) group of large Muslim countries which opens Friday.

Source: AFP