Iranian security forces arrested more than a dozen dissidents Monday after at least eight people were killed in fierce clashes, opposition websites said, drawing international condemnation.
Those detained included aides to reformist ex-president Mohammad Khatami and opposition leader Mir Hossein Mousavi, veteran dissident Ebrahim Yazdi and award-winning rights campaigner Emadeddin Baghi, reports said.
Related article: Recent key events in Iran.
The security force raids are certain to further antagonise the opposition, which has defied the authorities to stage noisy protests at every opportunity since Ahmadinejad was returned to power in a disputed June presidential vote.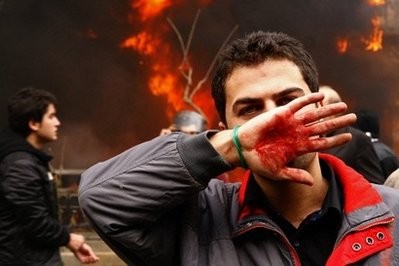 Anti-government protesters and security forces clashed heavily in Tehran and other Iranian cities on December 27.
The latest demonstrations came on Sunday when thousands of opposition supporters poured on to streets of Tehran and other major cities, making use of the Shiite sacred day of Ashura to stage fresh anti-government rallies.
Police fired teargas and used batons to disperse crowds and according to witnesses and the opposition later resorted to live rounds, marking the bloodiest showdown in months.
State-run English language Press TV put the death toll from the clashes at eight, quoting an official with Iran's Supreme National Security Council. It did not specify where the victims were killed.
Iranian state television earlier gave a contradictory toll of at least 15 killed in the capital alone, branding 10 among them as members of "anti-revolutionary terrorist" groups.
Islamic custom normally demands the dead be buried within 24 hours but state media reported forensic tests were being carried out on the bodies of five of those killed, including Mousavi's nephew, Seyed Ali, preventing their funerals becoming new flashpoints for protest.
Opposition leader Mehdi Karroubi condemned what he termed the "despicable violence" and accused the government of "dipping its hand in people's blood and unleashing a savage group on the people," in a statement carried by Rahesabz opposition website.
Hardliners by contrast demanded action against the opposition, with parliament's majority conservative bloc calling on "security and judiciary authorities to firmly deal with those who mock Ashura," in a statement carried by the official IRNA news agency.
The elite Revolutionary Guards and Islamic Basij militia said they were ready to act against anyone who continued to challenge the official results of a controversial June presidential election which gave incumbent Mahmoud Ahmadinejad a new term.
"The Revolutionary Guards Corps and Basij are fully prepared, if necessary, to eradicate the plot and urge the judiciary to react firmly, without any restriction against the plotters," they said.
Iran's bloody crackdown on the protesters drew criticism from around the world.
Related article: West slams Iran crackdown.
Russia called for "restraint," urging Iranians to "find compromises on the basis of law, undertake political efforts to prevent further escalation of the internal confrontation."
The European Union said it "condemns the use of violence against demonstrators who are essentially seeking to exercise their freedom of expression and right to peaceful assembly."
US President Barack Obama was scheduled to talk about Iran during an address in Hawaii, a senior US official said, after the White House condemned "suppression" in the Islamic republic.
Monday's arrests came after more than 300 people were detained during the Ashura protests.
Reformist website Parlemannews named the Khatami aides arrested as Morteza Haji and Hasan Rasooli and said they run his non-governmental Baran organisation.
It said aside from Beheshti, two other advisers to Mousavi, Ghorban Behzadian-Nejad and Mohammad Bagherian were also arrested.
Rahesabz meanwhile said Ebrahim Yazdi, who served as foreign minister in the early months of the 1979 Islamic revolution, and award-winning rights campaigner and journalist Emadeddin Baghi, were both arrested Monday.
Yazdi, 78, is secretary general of the outlawed but tolerated Iran Freedom Movement while Baghi has campaigned for years for prisoners' rights and against the death penalty.
Moderate cleric Ayatollah Ali Mohammad Dastgheib called for them to be freed in a website statement that also urged the authorities to catch the killers of Mousavi's nephew.
"I want the killers to be identified and prosecuted, I have repeatedly recommended (the authorities) to pay attention to the logical demands of the people, to abide by the Koran and the constitution, to free the prisoners, and to stop all illegal acts which are carried in the name of preserving the regime," he said.