Five British yachtsmen detained last week in southern Gulf waters by Iran's Revolutionary Guards have been released, the elite force said in a statement on Wednesday.
"The five Britishers who had illegally entered with their vessel into the territorial waters of the Islamic Republic of Iran and who were arrested near the Siri island have been freed hours ago," Fars news agency quoted the statement as saying.
The Guards said the five sailors were interrogated and "after investigation it became evident that their illegal entry was a mistake."
"So they were freed after taking the needed written commitments."
The five had been held since November 25 and on Tuesday, Iranian President Mahmoud Ahmadinejad's chief of staff Esfandiar Rahim Mashaie warned they would be dealt with "firmly" if found guilty of illegal entry into Iranian waters.
British Foreign Secretary David Miliband had pressed his Iranian counterpart Manouchehr Mottaki to release the five yachtsmen -- Oliver Smith, Oliver Young, Sam Usher, Luke Porter and sports journalist David Bloomer, who holds dual Irish-British nationality.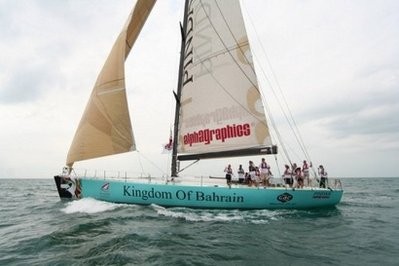 Picture released by Team Pindar shows the Kingdom of Bahrain racing yacht.
Miliband had also demanded consular access to them, saying they appeared to have "inadvertently" strayed into Iranian waters.
He also said the incident has "nothing to do" with politics or the standoff over the Islamic republic's nuclear programme, which the West suspects has military aims despite Tehran's denial.
Andrew Pindar, chairman of the Sail Bahrain team which owns the sailors' yacht, said it may have drifted into Iranian waters due to a damaged propeller.
"We received a call from the crew stating that they had been stopped by an Iranian navy vessel," he said in a statement.
"We understood that the crew believed they were in UAE waters, but due to a fault with the propeller, they may have inadvertently drifted into Iranian waters."
The five were sailing from Bahrain to Dubai for a race when their yacht, "The Kingdom of Bahrain," was stopped last Wednesday in the Gulf, the British Foreign Office said on Tuesday.
They were believed to have been intercepted near the Iranian-controlled island of Abu Musa, whose ownership is disputed by Iran and the United Arab Emirates, a Bahraini interior ministry source told AFP.
The seizure of the five was reminiscent of the detention by Iran of 15 British navy personnel in the Gulf in 2007.
In the 2007 incident, eight sailors and seven marines were captured on March 23. Britain insisted they were in Iraqi territorial waters, while Tehran said they were in Iranian waters.
During the 13 days they were held, the 14 men and one woman were not mistreated but they were paraded on Iranian television, sparking anger from Britain and other Western governments.