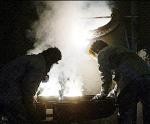 Two Iranians work at the zirconium production plant, part of the nuclear facilities in Isfahan, 295 km from Tehran.
Iran's decision to resume sensitive nuclear research only feeds suspicions that its atomic programme "could have a hidden military aspect," Russian Foreign Minister Sergei Lavrov was quoted by Russian media as saying Thursday.
   "The lack of economic logic and the absence of real practical necessity are questions that will feed suspicion that this programme could have a hidden military aspect," Lavrov said in an interview with Moscow Echo radio station, excerpts of which were released in advance of its airing.
 
 Britain, France and Germany are to call for an emergency meeting of the UN's nuclear watchdog at crisis talks in Berlin on Thursday after Iran resumed sensitive nuclear activities, British Foreign Secretary Jack Straw said.
   "At this meeting, top of the agenda will be the calling of an emergency meeting of the board of governors of the (International) Atomic Energy Agency and the question of whether we put before the board of governors the referral by the IAEA of Iran to the (UN) Security Council," Straw told reporters in London just before leaving for Germany.