Iran's first nuclear power plant will be linked to the national grid with its full 1,000-megawatt capacity by the end of the Iranian year in March, a senior Iranian atomic official said on Monday.
"We expect to be able to connect the plant with full power to the national grid by the end of the year," said Mohammad Ahmadian, deputy head of Iran's atomic organisation in charge of power plants. The Iranian calendar begins on March 21.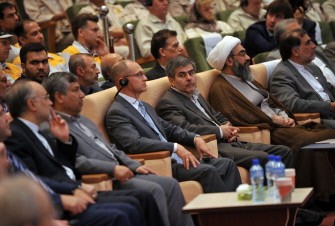 Iranian Foreign Minister Ali Akbar Salehi (L), Head of the Russian nuclear agency (Rosatom) Sergei Kiriyenko (3rd L) and the head of the Iranian Atomic Energy Organization Fereydoun Abbasi Davani (3rd R) attend a ceremony in the southern port city of Bushehr on September 12, 2011
Ahmadian's comments came at a ceremony marking the Russian-built plant, in the southern port of Bushehr, reaching 40 percent of its full capacity.
"Given the importance of safety issues, especially after the accident in Fukushima in Japan, we will take the next steps with patience, precision, and in strict compliance with safety standards," Ahmadian said, quoted by the state television's website.
His comments hint at the possibility of a further delay of project that was originally scheduled for December 2010.
Iran's atomic chief Fereydoun Abbasi Davani said on Monday that a firm date for the power plant operating at full force was being deliberately avoided.
"Given the sensitivity of safety, we do not want to impose any pressure on our colleagues by announcing a date" for the full launch of the plant, he said at a news conference in Bushehr.
"Only after all tests have been made... we can accurately determine the date on which the plant can reach its full power," the Russian Minister of Energy Sergei Shmatko said during the ceremony in the southern port city.