BRUSSELS, Nov 10 (AFP) – Iran has proposed a resumption of its long-stalled nuclear negotiations with major world powers in Istanbul on November 23 or December 5, a European diplomatic source said.
The offer came in the form of a letter from Iran's chief nuclear negotiator Saeed Jalili responding to an earlier proposal from EU chief diplomat Catherine Ashton for talks in Vienna from November 15 to November 18.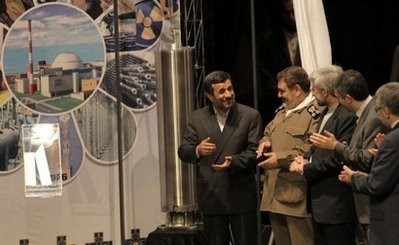 AFP file - Iranian President Mahmoud Ahmadinejad (L) attends a ceremony marking National Nuclear Day in Tehran in April.
Nuclear talks between Iran and the so-called P5+1 -- Britain, China, France, Russia, Germany and the United States -- have been deadlocked since October 2009 when the two sides met in Geneva.
"Iran has proposed to the six (powers) to meet in Istanbul on November 23 or December 5," a European diplomat told AFP on condition of anonymity.
The office of Ashton, who has been spearheading the drive for a new round of negotiations, confirmed receipt of the letter but refused to go into its contents or the dates, adding that world powers would respond soon.
"We will now discuss the details and proposals with our... partners and respond to Doctor Jalili in the coming days," a spokeswoman said.
In Washington, State Department spokesman Philip Crowley said the United States hoped negotiations would begin "as early as the end of the month."
"I would expect there would be consultations within the P5+1 in the next day or two," Crowley said, adding that Ashton and US Secretary of State Hillary Clinton would speak on the phone either Tuesday or Wednesday.
A switch of venue to Istanbul would likely irritate the United States, which views Turkey with mistrust since it set up a nuclear-swap deal with Tehran earlier this year when Washington was against the move and shoring up tougher sanctions.
Crowley suggested there could be multiple meetings and multiple venues.
"If we are successful in getting the process going, not just one meeting but a series of meetings and a serious engagement on the nuclear issue and other issues, we can envision that there would be many potential locations for this series of meetings," he said.
US Defence Secretary Robert Gates on Monday rejected comments by Israeli Prime Minister Benjamin Netanyahu calling for a "credible" military threat against Iran to ensure it does not obtain nuclear weapons.
President Barack Obama's administration, while not ruling out a military option against Iran, has so far stressed sanctions and diplomacy as its preferred course for dealing with the Islamic republic's nuclear drive.
World powers led by Washington want Tehran to suspend its uranium enrichment activity, which is at the centre of fears that Iran is developing nuclear weapons.
Low-enriched uranium of up to 20 percent is used as fuel to power nuclear reactors, but high-enriched uranium can make the fissile core of an atom bomb.
The fissile uranium used in nuclear warheads is normally refined to 85-90 percent by a process called isotope separation, but 20 percent enrichment is considered enough to make a crude weapon.
The New York Times reported last month that the Obama administration and its European allies were preparing a new, more onerous offer for Iran than the one rejected by supreme leader Ayatollah Ali Khamenei last year.
The offer would require Iran to send more than 4,400 pounds (1,995 kilograms) of low-enriched uranium out of the country, an increase of more than two-thirds from an earlier deal struck in Vienna.
Iran, which frames the talks for its home audience as about global nuclear disarmament, said categorically on Tuesday that it would not discuss the fuel swap during the upcoming negotiations.
"Under no condition will we discuss the issue of fuel swap in our meeting with the 5+1 group," Iranian foreign ministry spokesman Ramin Mehmanparast was quoted as saying by Mehr news agency.
Iranian President Mahmoud Ahmadinejad ordered Iran's atomic body in February to start refining uranium to 20 percent after an original version of the nuclear fuel swap deal drafted by the UN atomic watchdog fell through.
World powers responded on June 9 by backing new UN sanctions against Iran.
Sanctions notably ban investments in oil, gas and petrochemicals while also targeting banks, insurance, financial transactions and shipping -- all of which Tehran has brushed off as having no impact.