Iranian police fired tear-gas on Thursday as thousands of demonstrators defied government warnings and staged a march to commemorate the anniversary of bloody student unrest in 1999, witnesses said.
Protesters chanted "Death to the dictator" as they gathered in streets around Tehran University, epicentre of the violence 10 years ago.
The witnesses said police arrested several people, and some protesters set roadside rubbish bins ablaze.
They said windows in a state-owned bank were smashed, and police seized the number plates of vehicles whose drivers sounded their horns in protest.
Reinforcements were sent in after a volley of tear-gas failed to disperse the demonstrators who continued to grow in number, the witnesses said. Police then fired a second volley.
The witnesses said members of the hardline Basij militia also reinforced police ranks.
Officers in riot gear deployed in force to try to quell any gathering as tensions remained high following the wave of protests over June's disputed re-election of hardline President Mahmoud Ahmadinejad that saw hundreds of thousands take to the streets.
Some of the protestors chanted slogans in support of Ahmadinejad's defeated challenger, Mir Hossein Mousavi, who has denounced last month's election as a "shameful fraud".
The authorities had warned of a harsh response to any commemoration of the 1999 violence in which at least one student was killed when hardline vigilantes stormed student dormitories, according to an official toll.
The warning came after the G8 world powers expressed "serious concern" over last month's post-election violence which left at least 20 people dead.
Groups of students have held small commemorative gatherings in previous years, but Tehran governor Morteza Tamadon issued a blunt warning this year.
"If some people make moves that are contrary to security initiatives under the influence of anti-revolutionary networks, they will be trampled under the feet of our alert people," he told the official IRNA news agency.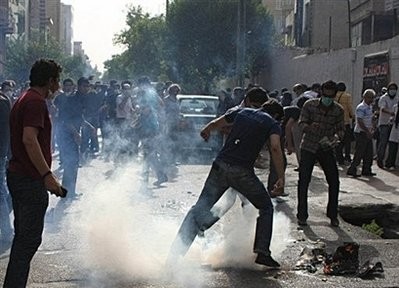 Iranian protestors run from tear-gas fired by police during an opposition rally in Tehran
Iran
has banned all gatherings and arrested scores of activists and pro-reform politicians since the June 12 vote.
An Iranian employee of the British embassy and a French lecturer also remained in custody amid charges by Tehran of Western government interference in the post-election disturbances, the most serious in its 30-year history.
The French ambassador to Tehran, Bernard Poletti, met lecturer Clotilde Reiss in Tehran's notorious Evin prison on Thursday and found her in "good physical condition," a diplomatic source told AFP.
French President Nicolas Sarkozy on Tuesday dismissed the espionage allegation against Reiss as "pure fantasy". On a visit to the Middle East on Thursday, Foreign Minister Bernard Kouchner called for her immediate release.
Iran is also still holding one of nine British embassy local employees it arrested late last month on suspicion of stoking the unrest in the Iranian capital. US President Barack Obama described the staffer's continued detention as "unacceptable".
A top aide to supreme leader Ayatollah Ali Khamenei slammed Britain and France for interfering in Iran's internal affairs.
"Western nations, especially France and Britain, want Iran to stop its nuclear activities. They want a weak Iran at the negotiating table," Ali Akbar Velayati told the Fars news agency.
Global powers led by Washington suspect that Iran's nuclear programme is aimed at making atomic weapons but Tehran denies the charge, saying it is designed to generate energy.
The G8 summit issued a declaration expressing concern over the post-election violence in Iran but said they were determined to find a peaceful resolution to the nuclear standoff.
"G8 countries continued to be seriously concerned about recent events in Iran," it said. "Interference with media, unjustified detentions of journalists and recent arrests of foreign nationals are unacceptable."
But Ahmadinejad said Tehran's "enemies" of Tehran were "obliged" to deal with his government which he said had been returned to power with a thumping victory.