President Mahmoud Ahmadinejad said Iran is ready to host a meeting of Islamic nations to help its ally Syria solve its political crisis, in remarks posted on his website Friday.
"Iran is ready to host a meeting of Islamic countries to reach a collective understanding in order to help Syria," the website quoted Ahmadinejad telling a group of Kuwaiti journalists.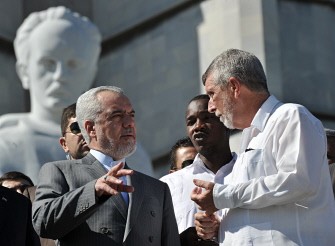 Iran Vice-President Mohammad Reza Rahimi (L) talks with Cuban Vice-Foreign Minister, Marcos Rodriguez (2-L), during the wreath-laying ceremony at the Jose Marti Monument on Revolution Square in Havana, on September 7, 2011.
He said the Islamic nations must reach an understanding to help Syria "independent of any foreign" influence, adding such a problem "could occur in any other Arab nation."
"The people and the government of Syria are Muslims and the Islamic nations should get involved for a collective understanding to help solve the (Syrian) problem and implementation of reforms" there," Ahmadinejad said.
More than 2,200 people, most of them civilians, have been killed in a Syrian crackdown on almost daily pro-democracy demonstrations in the country since mid-March, according to the United Nations.
Iran is concerned about the possible collapse of its principal ally in the Middle East and has never condemned Damascus for the violence while suppressing mass protests, as it has supported similar protests in other Arab countries.
Tehran accuses its traditional foes Israel and the United States of stirring up trouble in Syria.
On August 24, Ahmadinejad called on the Syrian government to find a "solution" with the protesters, as violence only "serves the interests of the Zionists."
Since the breakout of the violence in Syria, Tehran has maintained that the issue should be resolved "through dialogue and not violence."