Iran is refusing to send its low-enriched uranium abroad for further processing, the influential head of parliament's national security and foreign policy committee was quoted as saying on Saturday.
"We do not want to give part of our 1,200 kilos of enriched uranium in order to receive fuel of 20 percent enrichment," Alaeddin Borujerdi told the ISNA news agency.
"This option of giving our enriched uranium gradually or in one go is over now. We are studying how to procure fuel and (Ali Asghar) Soltanieh is negotiating to find a solution," he said of Iran's envoy to the UN atomic watchdog.
Last month, International Atomic Energy Agency (IAEA) chief Mohamed ElBaradei brokered a deal between Iran, France, Russia and the United States to supply much-needed uranium to a research reactor in Tehran.
But while Moscow, Paris and Washington all quickly approved the plans, Tehran said it wanted amendments and further talks.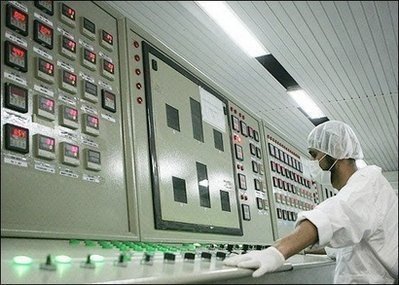 File picture taken inside the control room of the Isfahan Uranium Conversion Facilities, south of Tehran
Under ElBaradei's proposal, Iran would ship out most of its known low-enriched uranium to Russia for further enrichment. The material would then be turned into fuel for the Tehran research reactor by France.
On Friday Iran said it is preparing to give more details on its response to the international proposals for supplying nuclear fuel and expects more negotiations, even as Washington warned the time for talking is over.
Foreign Minister Manouchehr Mottaki said Tehran would give the additional details to the IAEA following the initial response it gave on October 29.
"We have some more details which we have to give to the International Atomic Energy Agency," state television quoted Mottaki on its website as saying.
"We have three options -- enrich the fuel ourselves, buy it directly or exchange our uranium for fuel," he said.
"They (the IAEA and the major powers) have to choose from these options. Given the need of Iran to have the fuel, my view is that they will accept another round of discussions."
His suggestion of further talks came despite a warning from US Secretary of State Hillary Clinton on Thursday that Washington's patience at Tehran's failure to give its definitive response was beginning to wear thin.
She called on the Islamic republic to accept unamended the proposals drawn up by the IAEA.
"As I have said, this is a pivotal moment for Iran, and we urge Iran to accept the agreement as proposed," Clinton told reporters.
"We will not alter it, and we will not wait forever," she said.
The IAEA proposal is aimed at allaying Western concerns that Iran could otherwise divert some of low-enriched uranium (LEU) reserves and enrich them further to the much higher levels of purity required to make an atomic bomb.
Tehran strongly denies seeking to manufacture a nuclear weapon, and says its atomic programme is for purely peaceful purposes.