President Mahmoud Ahmadinejad has said Iran was ready to negotiate to end the standoff over its nuclear programme but insisted Tehran would never agree to the West's most critical demand -- a freeze in uranium enrichment.
Ahmadinejad also confounded expectations he would unveil a major development on Iran's nuclear progress in his speech marking the 28th anniversary of the Islamic revolution, saying more news would follow by April 9.
"If you are willing to negotiate why do you insist on a suspension (of uranium enrichment)?" Ahmadinejad said Sunday, referring to the sensitive nuclear process the West wants Iran to halt as proof it is not seeking atomic weapons.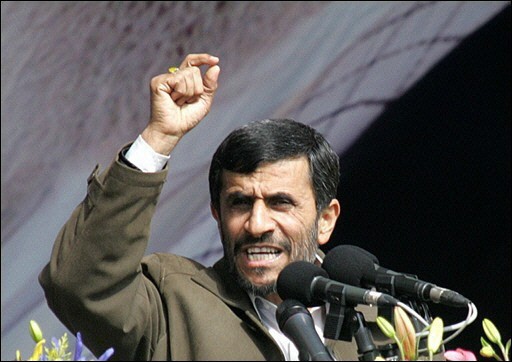 President Mahmoud Ahmadinejad speaks at an event to mark the anniversary of the 1979 Islamic revolution in Tehran.
"If we suspend our activities then what are we going to talk about? Why, if your nuclear plants are working 24 hours a day, why must Iran be pressured to shut them down?"
"We are ready to negotiate but under fair and even conditions," he told the crowd at Azadi (freedom) square in Tehran as hundreds of thousands massed around the country in support of the revolution, with slogans like "Death to America" mixing with the now familiar "Nuclear Energy is Our Natural Right".
Ahmadinejad's defiance comes despite the UN Security Council's decision to impose sanctions against Iran in December and its deadline for Iran to halt uranium enrichment by February 21 or face further action.
Chief nuclear negotiator Ali Larijani, attending the annual security conference in Munich along with top Western officials, said that Iran wanted to achieve a "negotiated settlement of the case."
"We don't want to aggravate the situation in the region," Larijani said, adding Iran was prepared to limit enrichment "to certain levels."
He also emphasized that Iran's civilian nuclear activity was not a danger to Israel, which Ahmadinejad has in the past said should be "wiped off the map."
"We are posing no threat to Israel. We have no intention of aggression against any country," Larijani said.
French Foreign Minister Philippe Douste-Blazy said any idea of holding talks while Iran carried out uranium enrichment was "totally unacceptable."
The International Atomic Energy Agency on Friday cut almost half its aid programmes to Iran as part of the UN sanctions, a step meant to send a strong message to Tehran.
Larijani said he had sent a letter to Mohamed ElBaradei, the chief of the Vienna-based IAEA, offering to work out outstanding issues.
"I have written to Mr ElBaradei to say we are ready within three weeks to have the modality to solve all the outstanding issues with you."
On the sidelines of the Munich forum, Larijani had his first meeting with EU foreign policy chief Javier Solana since talks broke down last September.
Solana said it had been "a good meeting" designed "to see if a possibility existed to find a solution."
Meanwhile, Ali Akbar Velayati, an aide to supreme leader Ayatollah Ali Khamenei urged UN Security Council member Russia to "do its best to prevent the adoption of another resolution against Iran."
Expectations had been high that Ahmadinejad would announce in his speech a breakthrough towards an industrial-scale enrichment of uranium, a process that can be used both in nuclear power stations and atomic bombs.
Speculation had been that Iran would announce the installation of some of the 3,000 uranium-enriching centrifuges it wants to put in place at an underground nuclear facility in the city of Natanz in the next months.
Striking a conciliatory tone with the UN nuclear watchdog, Ahmadinejad said that his government had no intention of quitting the nuclear Non-Proliferation Treaty (NPT), despite previous threats.
"We are willing to follow the regulations," he said, referring to the nuclear treaty of which Iran is a signatory.
The United States accuses Iran of seeking a nuclear weapon, a charge denied by Tehran which insists its atomic programme is peaceful in nature.
Although the Washington has said it wants the nuclear standoff resolved through diplomacy, it has never ruled out military action to thwart Iran's atomic drive.
In Baghdad, the US administration stepped up its criticism of Iran, with defence officials saying sophisticated Iranian-built bombs smuggled into Iraq had killed at least 170 US and allied soldiers since June 2004.