Iran Thursday warned it would "not hesitate" to hit back following a foreign strike on its soil in a formal complaint to the United Nations over a warning from French President Nicolas Sarkozy.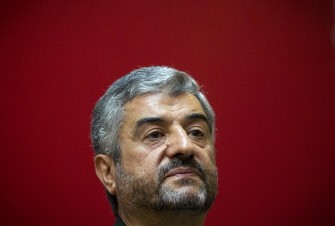 Iran's Revolutionary Guards commander General Mohammad Ali Jafari speaks during a ceremony to commemorate the martyrs of terrorism in Tehran, on September 6, 2011.
Sarkozy said last week that Iran's "military, nuclear and ballistic ambitions constitute a growing threat that may lead to a preventive attack against Iranian sites that would provoke a major crisis that France wants to avoid at all costs."
Iran's UN ambassador said in a letter to UN leaders that his country would "not hesitate to act in self-defense to respond to any attack against the Iranian nation."
Iran would "take appropriate defensive measures to protect itself," ambassador Mohammad Khazaee told UN Secretary General Ban Ki-moon and the Security Council, of which France is one of the five permanent members.
Sarkozy had made "inflammatory remarks and baseless allegations," the envoy added.
"The Islamic Republic of Iran expresses its deep concern over, and strong condemnation of such a provocative, unwarranted and irresponsible statement against Iran," Khazaee said.
The French leader has been one of the most outspoken critics of Iran in the western alliance, which has accused Iran of seeking a nuclear bomb.
In an August 31 speech to French ambassadors, Sarkozy did not say which country might carry out the preventive attack.
But he said "Iran refuses to negotiate seriously" and declared that France would work with its allies to build support for tougher international sanctions. The UN Security Council has already passed four rounds of sanctions against Iran over its enrichment program.
The Iranian ambassador again denied the charge that his country was seeking a nuclear weapon.
"Iran is a leading nation in rejecting and opposing all kinds of weapons of mass destruction, including nuclear weapons," said Khazaee.
"Moreover I wish to reiterate my government's position that the Islamic Republic of Iran has no intention to attack any other nations."
The Security Council's Iran sanctions committee has reported several violations of the arms embargo on Iran in recent months. The United States and other western nations have called for a tighter application of the sanctions.
France, Britain, Germany and the United States reported Iran's firing of a satellite in June to the UN sanctions committee as a potential violation. They say the launcher could also be used to carry missiles.
The Western powers say Iran's move in August to transfer centrifuge production to a secretive plant inside a mountain near Qom, south of Tehran, is a new sign that its nuclear program is not peaceful.
Arms flows have been carried out through Syria, envoys say, and US ambassador Susan Rice said this week that more Security Council action could not be ruled out.
Western diplomats have highlighted however that, with the 15-nation Security Council already battling over resolutions on Syria and Libya, more action on Iran could not be envisaged in the next two or three months.
Russia and China are in general both strong opponents of sanctions measures. Both called this week for greater diplomatic efforts to settle the nuclear standoff with Iran.