UNITED NATIONS (AFP) – Iran came under mounting pressure for its nuclear defiance as Russia signaled it could back biting sanctions if Tehran fails to make concessions in crunch talks next month.
In a busy day of diplomatic meetings on the sidelines of the UN General Assembly, Russia appeared to make a policy shift on the issue of slapping more sanctions on the Islamic republic.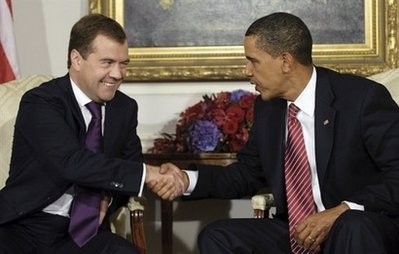 US President Barack Obama (R) shakes hands with Russian President Dimitry Medvedev during a meeting in New York Sep. 23 (AFP photo)
"Russia's position is simple: sanctions are seldom productive but they are sometimes inevitable. It is a matter of choice," Russian President Dmitry Medvedev said after talks with US President Barack Obama.
In his eagerly-awaited maiden speech to the 192-member assembly, watched intently by Iranian President Mahmoud Ahmadinejad, Obama warned that Tehran and Pyongyang's nuclear push had put the world on a "dangerous slope."
"If the governments of Iran and North Korea choose to ignore international standards, if they put the pursuit of nuclear weapons ahead of regional stability and the security and opportunity of their own people... then they must be held accountable," he told some 120 world leaders.
Iran's suspect nuclear ambitions were increasingly under fire throughout the day as world leaders warned it to halt its uranium enrichment program.
"Serious additional sanctions remain a possibility," Obama said after conferring with Medvedev, urging Tehran to "seize the opportunity" at key talks with six major powers scheduled for October 1 in Geneva.
British Prime Minister Gordon Brown delivered a similar message, telling the assembly that both Iran and North Korea must comply with UN demands.
"Iran and North Korea must now know that the world will be even tougher on proliferation. We are ready to consider further sanctions," he said.
The warnings came a day before Obama was to chair an unprecedented summit on nuclear proliferation in the UN Security Council.
French President Nicolas Sarkozy also warned Tehran against "making a tragic mistake" in pressing on with their suspect nuclear activities.
And there was tough talk too from chief diplomats of the six major powers -- Britain, China, France, Germany, Russia and the United States -- which have been trying to clip Tehran's nuclear ambitions.
The West suspects the Islamic republic is trying to acquire a nuclear weapons capability under the cover of his civilian atomic program.
But Tehran denies the charge and maintains that it will instead discuss in Geneva proposals to promote global nuclear disarmament.
Meanwhile, a speech to the assembly by Ahmadinejad triggered a walkout by a dozen delegations, including the United States and France.