Iran could be only two or three years away from being able to produce a nuclear weapon, the head of a leading international security think tank in London said.
John Chipman, of the International Institute for Strategic Studies (IISS), said Iran had stockpiled 250 tonnes of uranium hexafluoride (UF6), which, when enriched, would be enough for 30 to 50 weapons.
But he stressed that Iran still faced other obstacles before it could build a weapon.
While Iran is "probably" on track to hit a target of producing 3,000 centrifuges -- the machines which enrich uranium -- at its nuclear facility in Natanz by the end of March, installing them and making them function properly would be complicated, Chipman said.
"If and when Iran does have 3,000 centrifuges operating smoothly, the IISS estimates it would take an additional nine to 11 months to produce 25 kilogrammes (55 pounds) of highly enriched uranium,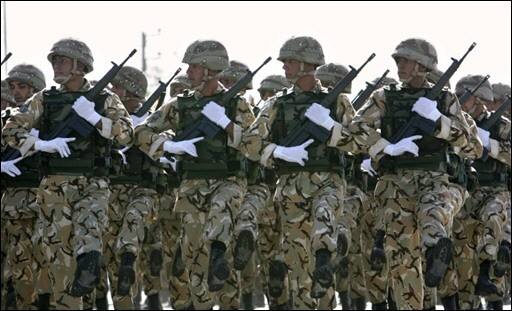 Iranian armed forces are ready for fight
enough for one implosion-type weapon.
"That day is still two to three years away at the earliest," he said.
Launching the IISS's annual report assessing global military capability, Chipman added that the "main bottleneck" for producing weapons was learning how to run UF6 through linked cascades for long periods.
"If Iran overcomes the technical hurdles, the possibility of military options to stop the programme will increase," he added.
Although US President George W. Bush has said the United States has no plans to invade Iran, Washington is isolating the Iranian regime over nuclear suspicions and allegations of complicity in attacks on US troops in Iraq.
In December, the United Nations Security Council adopted a resolution imposing sanctions on Iran for its repeated refusal to freeze enrichment work.
President Mahmoud Ahmadinejad's regime insists it only wants to use nuclear technology to generate energy, despite fears that it could be used to build an atomic bomb.
Chipman said that the sheer volume of centrifuges was "a political act, designed to demonstrate technological achievement at home and defiance abroad."
He added that having such a high number in place could provide Iran with a bargaining chip if international negotiations resume.
"Having more centrifuges in place -- even if not operating -- would also put the programme at a higher plateau in the event negotiations resumed and Iran made an offer to cap the size," he added.
Iran kicks off 10 days of celebrations Thursday marking the anniversary of its 1979 Islamic revolution, during which it is thought officials may announce the start of phase one of nuclear fuel production for industrial purposes.
But it could face further sanctions later this month when Mohamed ElBaradei, director general of the International Atomic Energy Agency, submits a compliance report to the UN Security Council.
Elsewhere in his speech, Chipman lent his voice to those criticising Bush's troop surge to Iraq, which will see an extra 21,500 military personnel deployed mainly to Baghdad.
"Simply flooding one area of Iraq, in this case parts of Baghdad, with troops, neglects the subtler aspects of counter-insurgency doctrine," he said.
"For a surge in troops to be sustainable, it has to be married with the second stage of the process."
This meant building up administrative capacity and establishing the rule of law, he added.