Iranians started voting in double polls that are the first test for President Mahmoud Ahmadinejad and his vanquished reformist foes since the president's stunning election victory last year.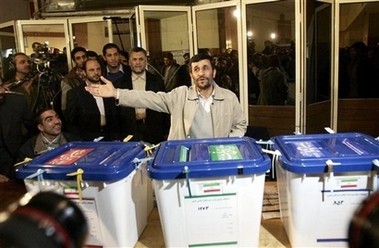 Iran's President Mahmoud Ahmadinejad, talks with media after casting his ballot for Iranian municipal council election and for the Assembly of Expertsin Tehran on Friday, Dec. 15
Iran is choosing a new Assembly of Experts, the body that selects and supervises the supreme leader, and voting for municipal councils in elections that will provide a crucial reading of the political temperature.
"By voting I am performing doing my religious and revolutionary duty," said Iran's supreme leader Ayatollah Ali Khamenei as he cast his vote just after polls opened, to cries of "praise to the Prophet Mohammed" from the faithful.
"The reason I took part early in the morning is that a pious and good deed should be done as early as possible, like praying as soon as the prayer call. The earlier you do it the more virtue there is in it."
Interior Minister Mostafa Pour Mohammadi described the votes as "another divine test. We will participate in order to solidify, strengthen and guarantee the leadership system and participate to build our country."
But it is the local elections that will provide the clearest indication of whether Ahmadinejad's conservative allies have reinforced their grip on power or if embattled reformers are on the verge of a comeback.
It was in the last such local elections in February 2003 that conservative forces launched a political resurgence that culminated in Ahmadinejad's defeat of reformists and moderates in the 2005 presidential elections.
True to form, the populist Ahmadinejad cast his votes in a crowded polling station housed in a mosque in the low-income east Tehran suburb of Narmak where he lived before elected president.
The most closely watched results will be for Tehran's municipal council, seen as a bellwether of future political trends. Dominated by reformists until 2003, it is now in the complete control of conservatives.
Reformist forces -- in disarray after their obliteration in the 2005 presidential elections -- will be seeking to win back a half dozen of the council's 15 seats as a springboard for a resurgence on the national stage.
But they face a stiff challenge from two competing conservative lists: the well-organised "Sweet Scent of Service" list of Ahmadinejad's allies and the list of those close to current Tehran mayor Mohammad Baqer Qalibaf.
The reformists have used the white-robed figure of former president Mohammad Khatami, a hugely charismatic presence and still popular despite the acknowledged failures of his rule, to front their campaign literature.
In a country where reliable opinion polls are non-existent, it is impossible to confidently predict the outcome of the votes, although it would be a major upset if conservative forces lost much ground.
While Ahmadinejad has gained notoriety abroad for his hardline stance on Iran's nuclear programme and a stream of anti-Israeli comments, it is the most local of issues that will most likely dictate the outcome of both elections.
However despite this clash there is little doubt that the body will remain under the control of conservatives who are fiercely loyal to Khamenei.